South Gate
Jump to navigation
Jump to search
Location
South Gate is a landmark within Bree in Bree-land. [32.0S, 50.4W]
The gate is a passage leading the Great East Road out of the southern Bree to the Chetwood and beyond, leading past the Lone-lands to Rivendell. From the square the Haunted Alley leads west to Bree-town Hunting Lodge, and the Woodsmen's Gate leads north to the Bree-town Hall Courtyard. Just outside the gate is Bree Skirmish Camp, somewhat to the south.
This is the gate Strider eventually decided for to lead Frodo out of Bree but to soon escape into an unexpected and less trafficked eastbound trail; somewhat after that Gandalf went out through this gate but rather travelled the Great East Road.
The South Gate square provides several excellent services, such as the Auction Hall, superior crafting facilities, the southern stables, a mailbox, and a milestone. Here are also found a forge-master, a relic-master, as well as a supplier. Inside the auction hall is also a vault-keeper.
Services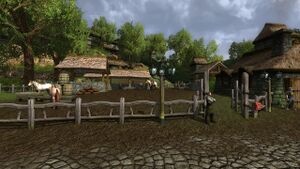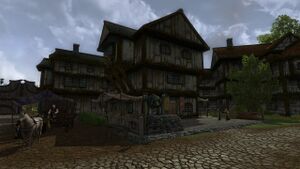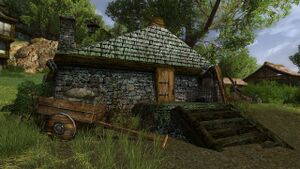 Civic Facilities
Mailboxes
Crafting
Travelling
NPCs
Supplies & Services
Others
| NPC | Function | Coords |
| --- | --- | --- |
| Sergeant-at-Arms Irminric | Quest - Freeps | [31.9S, 50.4W] |
| Parry Tuftweed | Quest | [31.9S, 50.5W] |
| Town Guard | Free Peoples | |
| Townsperson | | |
| Woodcutter | | |
Landmarks
Quests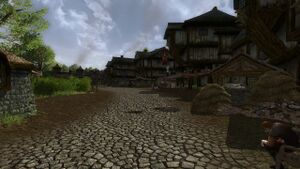 Starting:
Involving:
Gallery