Bree
Jump to navigation
Jump to search

Bree is the capital city of Bree-land.
No doubt Bree is located at the heart of Bree-land, at the very cross-roads of the important Great East Road and North-South Road, the place where all merchants, royal messengers, explorers, and any traveller eventually will pass. Thus Bree have survived many hardships over the centuries and its residents have grown tougher. Here Men as well as Hobbits dwell, if not together so side by side, and they make their living from one another.
Bree provides all possible services, trainers, and vendors. Its crafting facilities include the Three-farrow Crafting Hall and facilities dotted here and there. The Bree-town Hunting Lodge hosts the Men of Bree reputation faction. South of town is the Bree Skirmish Camp located. "Welcome to Bree", says Mayor Graeme Tenderlarch.
Notice: Bree is basically set up by many blocks and squares, as well as civic structures and facilities. This page provides a summary but each location page list its details individually. Some of these locations are allowed to comprise a somewhat larger section than what is noticed at the in-game map, just to provide the better information about that section.
Services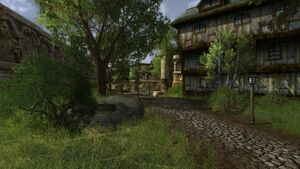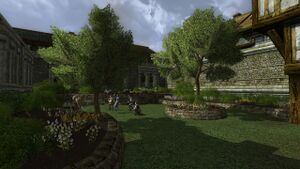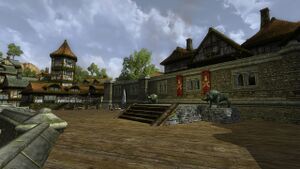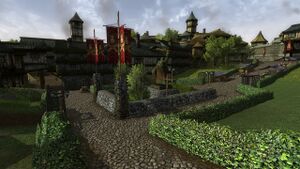 * Also inside other locations
NPCs
See "list of NPCs" within Bree
Class Trainers
Quests
See "starting quests" and the locations for more quests

Starting:
Involving:
Civic Structures and Facilities
Notice: Each location within this section individually lists quests, NPCs, and more, pertaining to it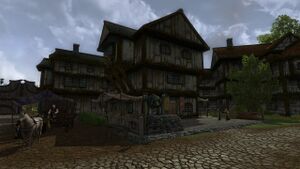 Bree-town Auction Hall
Bree-town Auction Hall is found in the southern part of Bree. [32.0S, 50.5W]
The auction hall is located at the South Gate in the southern part of the town. The hall also provides two mailboxes and a vault-keeper.
---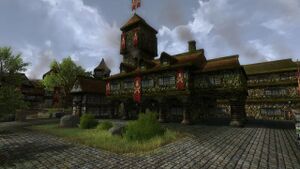 Bree-town Hall
Bree-town Hall is found in the eastern part of Bree. [31.1S, 51.2W]
It is located at the crossroads of the Great East Road, the road to Staddle, and local alleys. Service providers and quest givers are found inside the hall as well as outside and at facilities around the courtyard.
---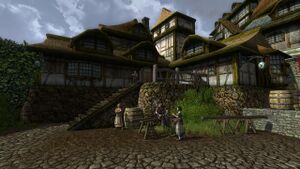 Bree-town Hunting Lodge
Bree-town Hunting Lodge is a reputation lounge in southern Bree. [31.8S, 51.4W]
Here members of Men of Bree barter, craft, or just hang out. Characters who have reached Acquaintance standing may enter.
---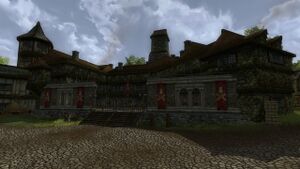 Bree-town Jail
Bree-town Jail is located at the Bree-town Hall Courtyard. [31.7S, 50.8W]
It houses many of the city's most notorious criminals. Here are also several class trainers and other persons important for the defence of Bree.
---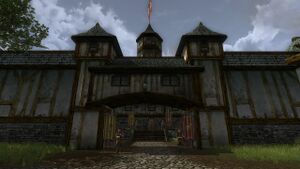 Bree-town Vault
Bree-town Vault is found near the West Gate in Bree. [29.8S, 52.7W]
The vault is found inside and south of West Gate, and west of the southbound street to the Stone Quarter, with entrances in both directions. Inside is found an auctioneer, a mailbox, and vault-keepers of course.
---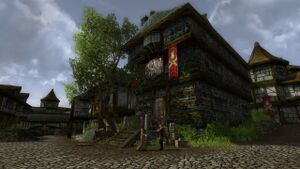 Lalia's Market
Bob's daughter Lalia sells a plentiful assortment of dye. She also oversees numerous vendors selling all manner of attire, from fanciful dresses to stalwart plate for man and beast.
---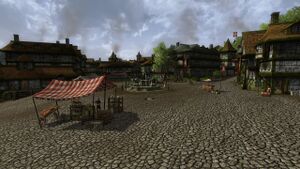 Market Square
Market Square is located in eastern Bree. [30.3S, 51.1W]
At its midst the famous Boar Fountain is a symbol of the city's strength and endurance. There are a Tasks Bulletin Board for levels 14 to 20, both permanent and temporary quest givers, and market booths all kinds of with vendors.
Temporary Vendors & Barterers, quests
---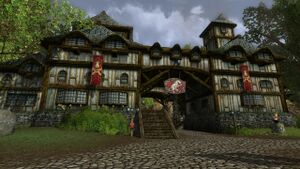 The Prancing Pony
The Prancing Pony is the most renowned tavern of Middle-earth. [29.6S, 51.2W]
The Prancing Pony lies in north-eastern Bree. Inside the Pony Barliman Butterbur welcomes any visitor alike and promptly gives best possible service. The Pony also houses a Barber, the Bard of Bree, a Healer, and a Minstrel Trainer.
---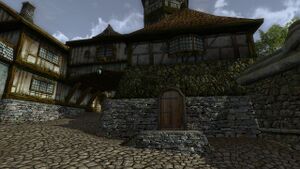 Scholar's Stair Archives
Scholar's Stair Archives is an archive in central Bree. [30.5S, 51.6W]
This is the research centre of Bree, where lore, ruins, and runes are scrutinized and studied in depth. This structure has two entrances, the upper is from the Scholar's Walk, while the lower entrance is from the alley down the Low Gate.
---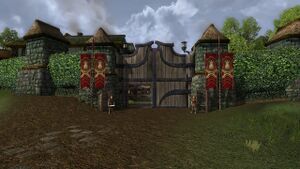 South Gate
South Gate is a landmark in south-most Bree. [32.0S, 50.4W]
The South Gate square provides several excellent services, such as the Auction Hall, crafting facilities, stables, a mailbox and milestone. Here are also found a forge-master and a supplier. Inside the auction hall is also a vault-keeper.
---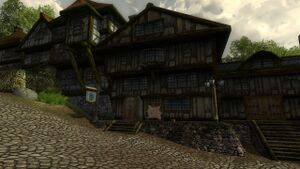 Three-farrow Crafting Hall
Three-farrow Crafting Hall is found in eastern Bree. [30.5S, 51.0W]
This excellent crafting hall is found at the Market Square. Here Old Roger Sorrel, the Master of Apprentices, welcomes visitors to select or change professions.
---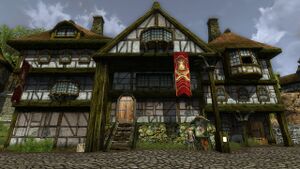 Training Hall
Training Hall is found in eastern Bree. [30.2S, 51.1W]
This building is found to the north-east of the Market Square and it hosts all kinds of class trainers, as well as locals and visitors who are enjoying the food and drink that is served. A Bard of Bree is walking around. And behind the minstrel trainer an oven is found.
---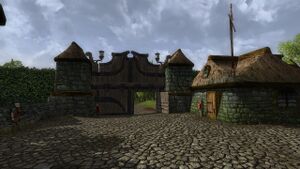 West Gate
West Gate is found in north-western Bree. [29.6S, 52.9W]
Inside the gate is the Bree-town Vault. Here are the stables of west Bree, a grocer, crafting facilities of all types, as well as other services. A few steps to the north-east are farmlands and an expert farmhand.
---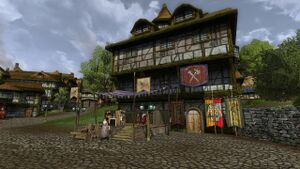 Weapons and Armour
Level: 15 - 23
Weapons and Armour Shop is an arming shop in south-eastern Bree. [31.0S, 51.0W]
This well assorted shop hosts an Outfitter and vendors who sell armour and weapons for the levels 15 to 23.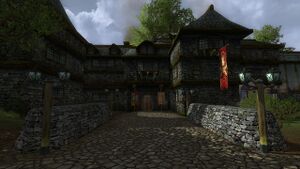 Level: 24 - 32
Weapons and Armour Shop is an arming shop in western Bree. [30.3S, 52.5W]
This well assorted shop sell armour and weapons for the levels 24 to 32.
Armour and Weapon vendors

---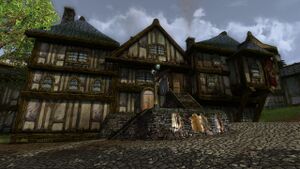 Whitethorn's Taxidermy
Whitethorn's Taxidermy is found in western Bree. [30.3S, 52.4W]
The family store is owned and run by Clar Whitethorn together with his sons and an intern. Here visitors can barter fishing and instance trophies for housing trophies.
---
Other Interiors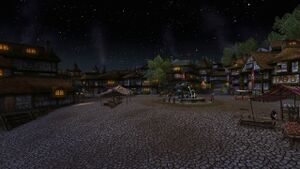 Other Locations
Unnamed locations are presented in italics
Points of Interest
Lore
It was said to have been founded by Men who did not make it to Beleriand in the First Age, having forsaken their relatives who would become the Edain, they remained in Eriador. After the kingdom of Cardolan collapsed after war with Angmar, Bree became an independent city without any central authority or government for many centuries.
Not long ago, on III 3018 September 29, Frodo Bagg.. eeh.. Underhill and three hobbits of his fellowship arrived to the Prancing Pony, met a (st)ranger named Strider, and hastily set off the next day after an eventful night. Now characters new to the Middle-earth will do their best to support that fellowship on their quest, whether that is to track down curious events in the wake of Frodo's quest, or to support the locals who struggles with new threats from all directions.
Maps
Gallery