Máttugard
Jump to navigation
Jump to search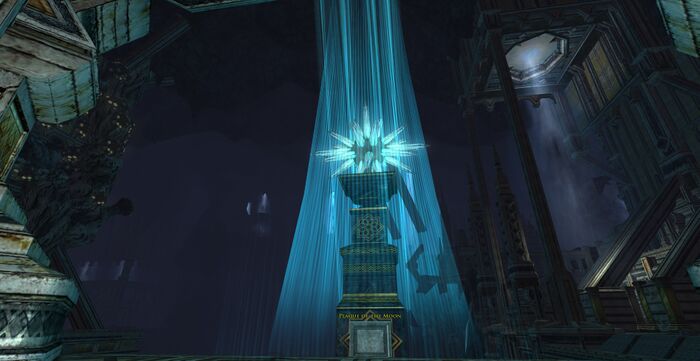 Description
Máttugard is the first area in the region of Gundabad. It is connected to Deepscrave to the west and the Pit of Stonejaws to the north, as well as to Elderslade through the Gates of Gundabad.
Máttugard, the Mighty Court, is the great front entrance to Mount Gundabad. The great gate, Maergrind, opens onto Elderslade. Many of the nobles of Gundabad once lived within Máttugard, taking the high walkways and holding court. The lords of Gundabad ruled from Zidir-nesad and the great throne once adorned with seven sacred stones, long since looted, while the nobles of the city debated in Vérnozal. The waterways of Shalakibal fed the Mighty Court fresh water from deep springs and kept the gardens green. Much of Máttugard has long since been overrun by orc-kin, however.
The major hubs of both Máttugard and Gundabad at large are at Maergrind, the Noble Gate and Zidir-nesad, the Steepset.
NPCs
See "list of NPCs" within Máttugard

Quests
See "starting quests" and the landmarks for more quests
Creatures
The following creatures are found within this area:
To see all creatures within this region see:
Maps
Máttugard
Settlements, Areas and Landmarks of Gundabad

Areas:
Câr Bronach • Clovengap • Deep Beneath Gundabad • Deepscrave • Gloomingtarn • Máttugard • Pit of Stonejaws • Welkin-lofts
Settlements:
Câr Bronach: Grúmachath • Leitstáth


Clovengap: Bazanmanar • Hagbuth
Deepscrave: Aslíf
Gloomingtarn: Watchers' Roost
Máttugard: Asbaj-khîrfin • Imrêkh-guthlu • Maergrind, the Noble Gate • Vérnozal • Zidir-nesad, the Steepset
Pit of Stonejaws: Bárgstad
Welkin-lofts: Fellgát • Ibdêkh-buzru, the Thing-fold

Landmarks:
Câr Bronach: Agal Dûn • Bálach Iaran, the Iron Pass • Clavanail • Crágan Bris • Eiglinn • Eiricháv • Hlídborg • Mur Shatraug, the Witch-gate (Exterior) • Rathad Caul, the Narrow Way • Skáilag • Tâg Fógarrach • Toll Oivas • Tûr Fúar, the Drearspire


Clovengap: Amgaruslun • Anatrâd • Burmumekhem • Danakh-khêj • Dashât-zahar • Frósthel • Garânashmar • Kurdushâlak • Maranazhâr • Min Návaid • Nâtatharr • Skarashulg • Stókkset • Tharrkirîn
Deepscrave: 'Abad-nuhbu, the Berg-beam • Buzra-salân • Dalugronk • Durbángh • Durshulot • Gabil-memâg • Gazat-fark • Kordh Gúrat • Shataz-kordh • Skrizagáf • Vatug-ronk, the Groaning Pit
Gloomingtarn: Abkân'aban, the Stone of Wakening • Burmumekhem • Drúkala • Durthuzâram, the Dark Lake • Glittengrof • Lochan Dúv • Lugun-nâla • Mîn Lorg • Ormgren • Skelstrand • Zâram-mekhem
Máttugard: Brúvraum • Búshatap • Khorroz • Ronglagam • Sadauk-kala • Shalakibal • Tholmuzog • Vâr Nuchur
Pit of Stonejaws: Adkhât-zahhar, the Houses of Rest • Akhaldarâg • Borkordh • Mur Shatraug, the Witch-gate (Interior) • Shakhajât • Stazg Vozag
Welkin-lofts: Bagud-bukhnu • Bagud-dum • Bazan-medan • Draurákh • Flogalith • Grymmclúd • Mullach Cagar • Thyrstáth • Uzdarulzahar

Interiors:
Câr Bronach: Eiricháv • Skáilag • Toll Oivas


Clovengap: Min Návaid
Deepscrave: Durbángh • Filthy Goblin-den • Hideout • Skrizagáf • Vatug-ronk, the Groaning Pit
Gloomingtarn: Glittengrof • Mîn Lorg • Ormgren
Máttugard: Hall of Vérnozal • Máttugard Troll-den
Pit of Stonejaws: Shakhajât • Zul-mazal
Welkin-lofts: Bagud-dum • Draurákh • Thyrstáth

Dungeons:
—
Instances:
Clovengap: The Hiddenhoard of Abnankâra


Deepscrave: Assault on Dhúrstrok
Gloomingtarn: Den of Pughlak
Pit of Stonejaws: Adkhât-zahhar, the Houses of Rest
Welkin-lofts: High Above Gundabad