Southern Barrow-downs
Jump to navigation
Jump to search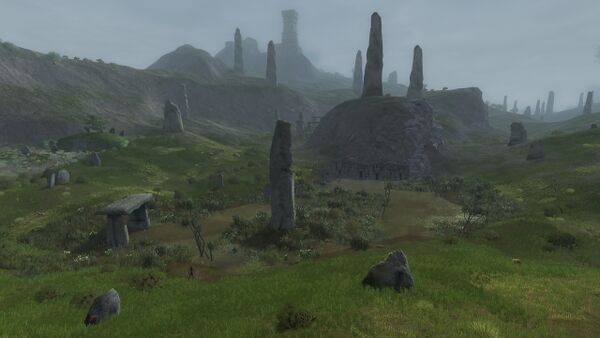 Southern Barrow-downs is an area within Bree-land in the southern region.
This area lies south of the Northern Barrow-downs. Travel here from the north over a central ridge that is separating the two areas. However, just north of Ost Gorthad is a crypt that leads through the mountain to Andrath. [34.9S, 53.1W]
The northern section mainly contains waights and barghests, however, further south the ground sinks into marshes and there angry bears and wretched oaks (possibly from the Old Forest to the west) threatens any adventurers.
Since long this area contained a public dungeon for gaining reputation with the Men of Bree. However, with the Free to Play it was split and scattered as many smaller tombs in the northern as well as southern areas; see Haudh Iarchith and Haudh Iarchith (F2P) for details but remember that today Haudh Iarchith generally means any of these smaller tombs.
Some tombs and all of the overground creatures are aimed at levels 22 - 24, but other tombs are designed for medium level characters and yet others are instances that may be scaled from level 20 and upwards.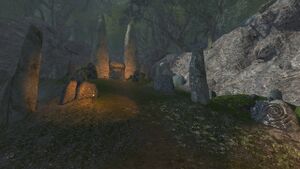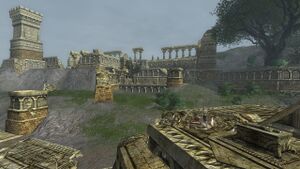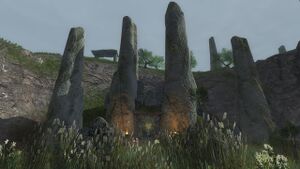 Services
Deeds
The following deeds relates to Southern Barrow-downs:
NPCs
See "list of NPCs" within the Southern Barrow-downs
Quests
See "starting quests" as well as locations for more quests
Involving:
Creatures
The following creatures are found within the area:, unbound to any location:
Maps
Gallery