Skarháld
Jump to navigation
Jump to search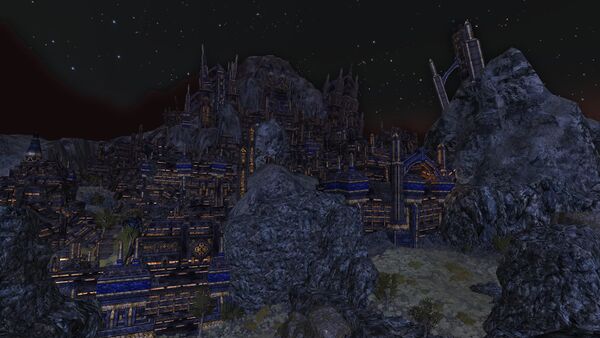 Description
Skarháld is a settlement located within the area of Ered Mithrin in Ered Mithrin and Withered Heath. [36.0N, 46.4W]
The massive fortress, known as Skarháld in the Common Tongue, is called Tharrazhâr by the Longbeards, and Brúgrad by the Zhélruka. It contains seven levels and two wings, plus the Keep of Tharrazhâr. There are two entrances to Skarháld.
Services
The following services can be found within the settlement of Skarháld:
Outside the main entrance
First level
NPCs
Second level
NPCs
Third level
(provides access to side area at fourth level and Agátur the Boastful [35.3N, 45.4W])
Fourth level
Fifth level
Sixth level
Interiors:
Mailboxes
Tasks Bulletin Board
Crafting
Travelling
Deeds
The following deeds can be advanced by visiting this place:
Quests
Dwarf-holds: Reclaiming the Grey Quests

All of the following quests require the quest [118] Quest: The State of the Expedition to be completed.

Skarháld
There are 11 different variations of the below quests. Only one of them can be active in quest log at the same time. For example if you have yesterday's quest active, you will not be offered today's. One quest is offered per day, and they rotate in the following order:
Lore
Drawn by a powerful greed, it was the dragons of the wastes beyond that laid siege to the Dwarf-kingdom of Grárik. First fell Ablâk-khadar, the Stormwall, and its forges were extinguished. Second fell Tharrazhâr, and its keep was shattered. Third fell Aglâmbazar, the great Glimmerdeep, and it was there Smaug the Golden made his lair. Last fell Thikil-gundu, the Steel Keep and seat of Grárik, and I need not name the great cold-drake who slew King Dáin I and his son, Frór, along with countless others. The Dwarf-kingdom of Grárik was no more. [1]
Gallery