Cardolan
Jump to navigation
Jump to search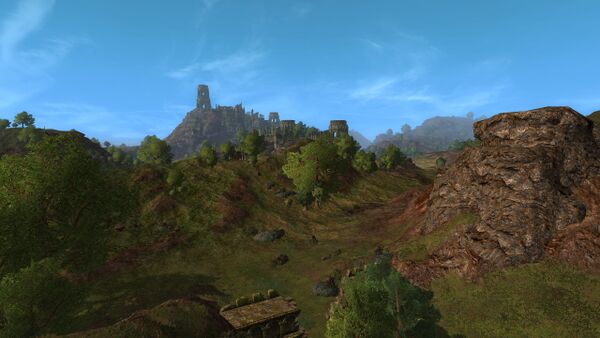 Cardolan is a region found within the land of Eriador.
Cardolan is the old kingdom of the Dunedain. Together with Arthedain and Rhudaur it once formed the kingdom of Arnor. The old kingdom of Cardolan stretched all the way from Amon Sûl in the north to the sea in the south, although the zone is much smaller.

It is caught between the Baranduin in the west and the Mitheithel and the Gwathló in the east. It consists of large open fields, sweeping hills, and shallow marshes. The red rock in Cardolan is a signature characteristic of the region, especially within the aptly named Ruddymore.

In the centre of Cardolan lies the city of Herne, and in the south-east is the abandoned city of Tharbad straddling the border with Swanfleet. Through the region lies the Greenway, an old road connecting Fornost with Tharbad, where it changes into the Old South Road to Gondor. In the west lies Tyrn Gorthad, the old capital of Cardolan. This place has long been abandoned and defiled by the dead.

Rangers of the North keep a watchful eye on the few settlers who chose to attempt to etch out a life in these long abandoned lands, safeguarding them against any potential threats.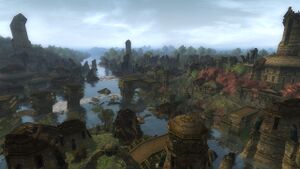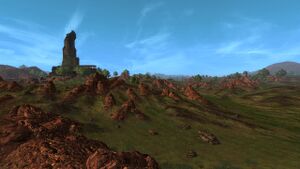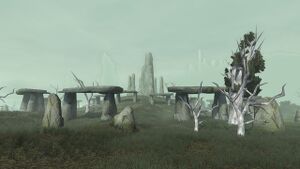 (Ordered by main quest-level)
Tharbad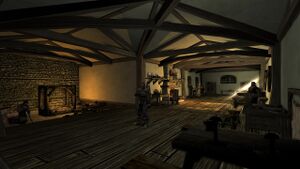 Journeyman: Barrow-iron Deposit, Silver Deposit, Ash Branches, Broken Urn
Resource Location(s):
Primarily: Herne - Hall of Crafts
Lore
Cardolan (Sindarin for Red Hill Country) is the name of one of the three kingdoms into which Arnor was divided in T.A. 861 (the other two being Arthedain and Rhudaur). Cardolan was bounded to the west by the Baranduin (Brandywine) River, to the east by the Mitheithel (Hoarwell) River, to the east and south by the Gwathló (Greyflood) River, and to the north by the Great East Road. It was thus the southernmost division of what was once Arnor.

Cardolan was an ally to Arthedain for some six centuries, until in T.A. 1409 a large invading force from Angmar destroyed Cardolan and slew its last king. Soon after the Great Plague of T.A. 1636, the Witch-king of Angmar raised fell spirits to inhabit Tyrn Gorthad, and what was once the capital of Cardolan is now known as the Barrow-downs.

Cardolan was once home to Ambossar, one of the seven Vandassari. It was housed at Gaervarad, and was destroyed by the forces of Angmar. Released from the Oath-stone's bonds, many of the Hill-men who had been subject to its power turned on the Dúnedain.

See also: The Scroll of Luilloth
Maps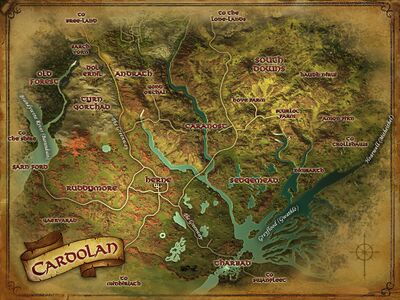 Gallery