Beorning
Jump to navigation
Jump to search
The beorning is one of the playable classes in the class system of The Lord of the Rings Online. It was added to the game seven years after The Lord of the Rings Online's initial launch, during Update 15 - Gondor Aflame.

Class Difficulty: Advanced
Role: Damage/Support
Available to races: Beorning (Race)
Gameplay: Beornings are skin-changers that can change into the form of a bear in combat. They focus their wrath while in bear form, choosing to deal grievous blows or bolster their own resolve. While skilled in combat, some Beornings also choose to wield their knowledge of the wilderness to assist their allies.
Lore: The Beornings of Middle-earth are a largely reclusive people. They trace their ancestry to Beorn himself, and spend most of their time deep in the wilderness. The solitude of the forest gives little comfort in recent times, with the enemy encroaching from all sides. The time has come for the descendants of Beorn to lend their strength to the Free People of Middle-earth.
This class is inspired by Beorn, who bravely stood with the Free Peoples during the Battle of Five Armies.
To be purchased for 1,000 LOTRO Points in the LOTRO Store, even by VIP's.
Class Mechanics
Bear Form
When Beornings gather sufficient Wrath they can take the form of a great bear to unleash attacks on their foes.
Beornings are designed to be a dynamic skin-changer class. A Beorning can alternate back and forth between forms almost at will, dependent only upon their level of Wrath. Yes, they CAN change form during combat! A Beorning can always change from Bear back to Man Form at will, however changing into Bear Form is subject to a cooldown. A Beorning's basic skills emphasize the difference between Man and Bear Forms. There are skills available in three different ways -- those available in Man Form; those available in Bear Form; and those available in either form.
Wrath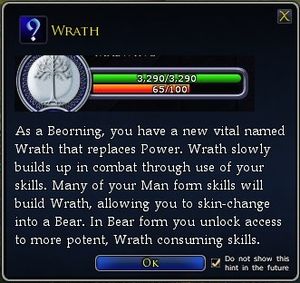 As a Beorning, you have a new vital named Wrath that replaces Power. Wrath builds up in combat through use of your skills. Many of your Man form skills will build wrath, allowing you to skin-change into a Bear. In Bear Form you unlock access to more potent, Wrath consuming skills.
Any skills requiring Wrath will list the cost in their tooltip. Bear form requires Wrath to use and maintain. Certain skills in either Man or Bear Form may also require Wrath. While in Bear form, Wrath will slowly increase over time. Wrath state is not maintained between logons so your character will always start with zero Wrath upon login.
The Beorning trait trees are designed to allow tailoring your play style to fit a tank, damage, or support role. Call on the ancestral knowledge of your people with The Roar trait line, strike down your enemies with The Claw trait line, or unleash your wrath to defend your allies with The Hide trait line.
Skill overview
Default Skills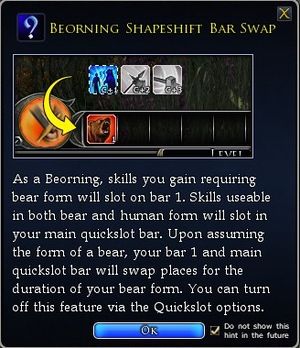 These skills are granted automatically as you gain levels. The effects of many of these skills are improved in various ways by your choice of specialization and how you spend your trait points. Some skills may also be replaced by an improved version of the same skill as you increase in level.
Skills from Trait Trees
These skills are acquired by spending trait points in The Hide (blue) trait tree. You can only obtain the Set skills if you specialize in this tree.
These skills are acquired by spending trait points in The Claw (red) trait tree. You can only obtain the Set skills if you specialize in this tree.
These skills are acquired by spending trait points in The Roar (yellow) trait tree. You can only obtain the Set skills if you specialize in this tree.
Passive Skills
Armour Proficiencies
Weapon Proficiencies
Instrument Proficiencies
For skills related to the race and not to the class, see Beorning (Race) Skills.
Specialization Sets & Traits
The Hide
Emphasises the durability of the Bear Form.
Relying on the bear form, this line bolsters personal defences while weakening the enemy.
Skills Earned:
Vexation:

Upon taking damage in Man form (20% chance in bear form):
This effect can only occur once every 8 seconds.
+5 Wrath


You may block incoming attacks.
The Claw
Consumes Wrath to Deal Crushing Damage.
Empowering both Bear and Man, this line focuses on overpowering foes with devastating attacks.
Bestial Fury:

Whenever you Critically Hit with skills you gain:
+3 Wrath
The Roar
Provides healing and crowd control Support.
Using the knowledge of your unique people, aid your allies with powerful healing, debuffs, and crowd control.
Skills Earned:
Grimbeorn's Spirit:

Upon healing any target:
Apply to the target of Mark of Grimbeorn:
This effect can stack up to five times.
+1% Incoming Healing Modifier
Duration: 12s
Trait Tree
The Hide
Emphasises the durability of the Bear Form.

Relying on the bear form, this line bolsters personal defences while weakening the enemy.

Skills Earned:

Vexation:

Upon taking damage in Man form (20% chance in bear form):
This effect can only occur once every 8 seconds.
+5 Wrath


You may block incoming attacks.

The Claw
Consumes Wrath to Deal Crushing Damage.

Empowering both Bear and Man, this line focuses on overpowering foes with devastating attacks.

Bestial Fury:

Whenever you Critically Hit with skills you gain:
+3 Wrath

The Roar
Provides healing and crowd control Support.

Using the knowledge of your unique people, aid your allies with powerful healing, debuffs, and crowd control.

Skills Earned:

Grimbeorn's Spirit:

Upon healing any target:
Apply to the target of Mark of Grimbeorn:
This effect can stack up to five times.
+1% Incoming Healing Modifier
Duration: 12s


0/1

0/5

0/3

0/1

0/2
↓ (1)

0/5

0/2

0/1
↓ (1)

0/5

0/3

0/3

0/1
↓

0/2

0/2

0/5

0/1

0/1


0/5

0/5

0/3

0/5

0/3

0/1
↓

0/1

0/3

0/5

0/5

0/2
↓

0/5

0/5

0/3

0/1

0/1


0/5

0/3

0/5

0/5

0/5

0/2

0/2

0/1
↓

0/5

0/3

0/1

0/5

0/1

0/4

0/1

0/3

0/1

0/1
See Also