The Wildwood
Jump to navigation
Jump to search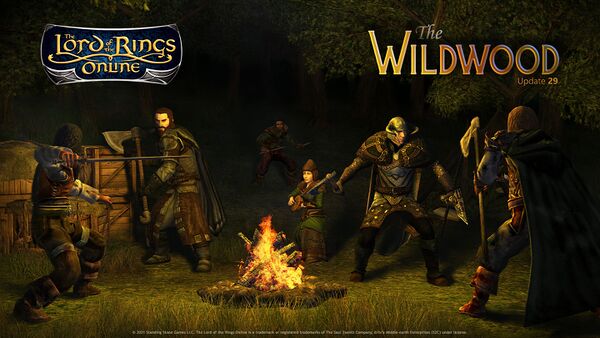 The Wildwood is an area within Bree-land. It is situated in the north-western part of the region. Unlike the rest of Bree-land, this area requires the purchase of a quest pack, priced at 1,195 

 , or VIP account status.
This area is located between the Barandalf of Evendim to the west, the Horse-fields to the east, the Brandy Hills to the south and Trestlebridge and the North Downs to the north and east. It is a densely forested, mainly uninhabited wilderness on the edges of Bree-land.
Landmarks
These Points of Interest are located within The Wildwood:
Other landmarks.
Quests
Wildwood: Wildwood Missions Quests
Main article: Missions
Wrapper Quests for Wildwood Missions
Repeatable Wildwood Missions
NPCs
See list of all NPCs within the Wildwood
In the Wildwood
At the west gate of Trestlebridge in the North Downs
At the Trader's Wharf in Evendim
Reputation Factions
Creatures
Deeds
Lore
Beyond the Bree-fields lies the lightly travelled wilderness of the Wildwood. This heavily forested area has drawn the attention of two groups of Free Peoples who vie for its resources. The League of the Axe, a group of game hunters and miners down on their fortunes, seek to tap the land's resources and ferry their bounty down the Brandywine from Trader's Wharf to markets abroad. Meanwhile, a group of villagers in Trestlebridge have formed the Woodcutter's Brotherhood, with the goal of taking advantage of the Wildwood to benefit the folk of Bree-land and rebuild Trestlebridge to its former glory. Both factions must decide the fate of the Wildwood as they work against unsavory Brigands and the Tarkrîp Orcs.
Maps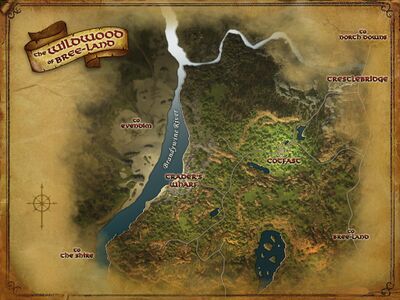 Gallery