Galtrev
Jump to navigation
Jump to search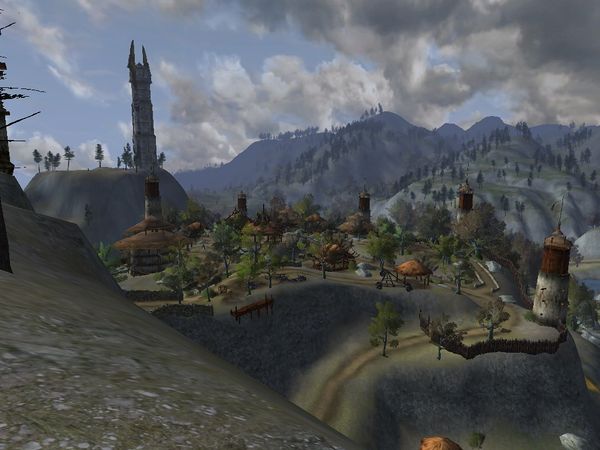 Galtrev is a settlement located within the area of Pren Gwydh in Dunland. [80.3S, 17.3W]
Located in the center of Pren Gwydh, it is a "full service" settlement, a center of Trade and Transportation. Many different Dunlending Clans pass through to trade and its resources have drawn Servants of the White Hand and promises of support from their leader.
Services
The following services can be found within the settlement of Galtrev:
Auction Hall
Barber shop
Bard
Crafting
Galtrev has a full complement of crafting facilities and expert crafters located in the Crafting Hall

[79.9S, 17.0W]
There are Mailboxes and Vault keepers located in the Crafting Hall.
Crafting Guilds
All crafting guilds have representatives in the Craftguilder's Hall attached to the Crafting Hall, through a door at the far back end.
Mailboxes
There are several mail boxes within Galtrev locations including inside the Crafting, Auction and Training Halls.
Skirmish Camp
Travelling
Milestone
Training Hall
Trainers for all classes are found here
Quests
Dunland Quests: A list of all Dunland quests in play-through order. Scroll down to Pren Gwydh for the quests of Galtrev.
Notice

In the Quest Journal all quests that start at Galtrev are listed as Pren Gwydh Quests.
Quest givers in Dunland do not have any floating "silver ring" that quests beyond a players current level will be unlocked later on.
Many quests are unlocked by previous quests and many quest givers may appear and disappear as quests become available and/or completed.

Tasks
The task bulletin boards can be found at:
Tasks found on these bulletin board:
NPCs
Vendors
Name
Type
Supplies & Provisions
Healer

[80.2S, 16.8W]

Provisioner

[80.2S, 16.7W]

Supplier

[80.1S, 16.8W]

Quartermasters
Lugdagnir

[80.4S, 16.8W]

Rohirrim Quartermaster

[80.4S, 16.8W]

Dunlending Quartermaster

[80.4S, 16.8W]

Expert Crafters
Expert Cook located in the Crafting Hall
Expert Jeweller located in the Crafting Hall
Expert Metalsmith located in the Crafting Hall
Expert Scholar located in the Crafting Hall
Expert Tailor located in the Crafting Hall
Expert Weaponcrafter located in the Crafting Hall
Expert Woodworker located in the Crafting Hall
Expert Farmhand located outside the north entrance to Galrev
Master of Apprentices located in the Crafting Hall
Trainers
Burglar Trainer located in the Training Hall
Captain Trainer located in the Training Hall
Champion Trainer located in the Training Hall
Guardian Trainer located in the Training Hall
Hunter Trainer located in the Training Hall
Lore-master Trainer located in the Training Hall
Minstrel Trainer located in the Training Hall
Rune-keeper Trainer located in the Training Hall
Warden Trainer located in the Training Hall
Other
Forge-master

[80.1S, 16.8W]

Vault-keeper - found in both Crafting Hall and Auction House
Barber

[80.0S, 17.1W]

Bard

[80.3S, 17.1W]

Hobby Master

[79.9S, 16.9W]

Morn
NPC Task-master

[80.2S, 16.8W]
Craftguilder's Hall
Townsfolk
Maps
Galtrev