Núrsir
Jump to navigation
Jump to search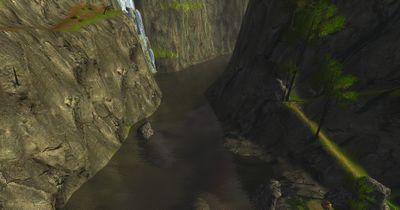 Núrsir (Sindarin for Sad Stream) is a river flowing from the hills in the north of the North Downs through Annúndir, past Trestlebridge and entering the Baranduin at Barandalf. It splits just north of Nan Wathren, filling the lake of Nen Harn with its eastern stream, then reuniting just east of the Trestlespan.
The chasm between Trestlebridge and Greenway is called Cirith Núr (Sindarin for Núr's Cleft).
Course of the River
Maps
Gallery
The Núrsir flows from the hills in the northern part of Annúndir in the North Downs, heading south.

Beyond the bridge, the river splits into two branches, one heading southeast and the other soutwest. They will eventually meet up again on the far side of Nan Wathren.

The eastern branch passes the orc camps of Gurzlum, its south bank inaccessible due to the high terrain.

It soon falls underneath the remains of what used to be an Arnorian bridge. Now only orcs prowl here, and the bridge is lost.

The east branch of the Núrsir then passes into Meluinen, where its waters form pools and rivulets.

The eastern Sadstream passes the elven holdout of Lin Giliath as its waters stagnate.

The water trickles on to Merenost, also ruined and fallen to orcs.

Even into Taur Gonwaith the rivers flows, nourishing that area's large trees.

While there is no overland flow, the water does run into Nen Harn on the far side of Meluinen.

Meanwhile, the western branch of the river has a much shorter path, running directly along the rocky cliffs north of Nan Wathren.

Here, the Sadstream passes far below Trestlebridge, its impressive span built high atop the cliffs and allowing passage of the Greenway across the river.

Through several bends, the river's white water approaches its course's end, passing beneath one last bridge at Marl's Crossing.

At last, the Sadstream joins the Baranduin, its golden-brown waters heading towards the ocean far away to the south.