Game Guides
Jump to navigation
Jump to search
A partial collection of links to various guides to LOTRO found on the Lotro-Wiki.
General Guides
General information about your character.
Gameplay Guides
Quests and adventuring are essential to levelling your character. Here's some help in how to do that!
Crafting Guides
Crafting in Middle-earth is your character's chance to shine. A character can craft many things that will increase stats and give you a better chance of survival!
General
Vocations and Professions
As a young adventurer you have the opportunity to choose a vocation early on in the game. Within each vocation are three professions. These guides will give you a chance to understand how this all works.
Recipes
Mastery Components
Life in Middle-earth guides
For the Role-player at heart or for those just curious about what your character can do outside levelling, look here.
Guides for Game Mechanics
Anything from Keyboard shortcuts to Emotes to Game Terms, you'll find it here.
See also
List of Guides - a collection of links to Game guides on other web sites.
The Turbine Official Guide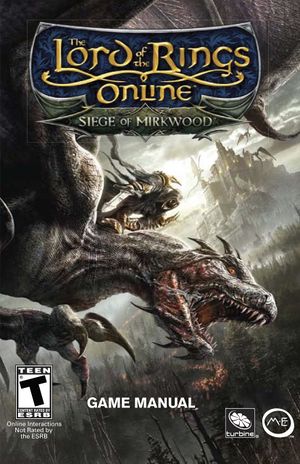 With more and more individuals joining the world of LOTRO players via electronic download instead of purchasing "a box" -- the knowledge of the existence of a Game Manual from Turbine is fast disappearing.
This Official Guide provides a wealth of details into every aspect of The Lord of the Rings Online.
The current version included with Update 12, Helm's Deep, is still entitled: "Siege of Mirkwood." (It does not include information on Mounted Combat or Epic Battles.)
A PDF copy of the Turbine LOTRO Game Manual is included in every download (PC or Mac).
However, this "Treasure" is "buried" in the download!
In that directory you will also find copies of the EULA and TOS documents AND the "LOTRO Game Manual.pdf." The EULA and TOS documents are in html format and will display in your browser if double-clicked on. NOTE: the EULA and TOS are in their respective languages, however, the Game Manual in each directory is in English.
That same PDF Manual is available as a free download from http://www.lotro.com/gameinfo/game-manual.