Jeweller
Jump to navigation
Jump to search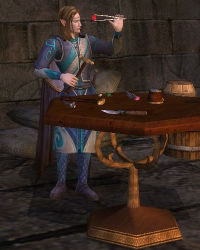 "Simple adornments and objects of beauty are the heart of the jeweller's trade. However, exceptional adornments can go far to increasing the stature and confidence of an adventurer, and a skilled jeweller can produce true works of art."
Creation of a thing of beauty is an act of defiance against the forces of the Enemy. Jewellers can create rings, necklaces, bracelets, and earrings that can be worn by player characters, tokens that ward off the effects of dread, talismans that enable a Lore-master to attract special pets, and Rune-stones weapons for the Rune-keeper. Some jewellers can also create decorative items for the home.
A guide to attaining Jeweller Mastery.

Required Tools
Materials
A list of all component items that are used to craft Jeweller recipes: Jeweller Components
A Jeweller polishes rough gemstones and uses Precious Metal ingots (silver, gold, platinum, calenard, eorlingas) and Crafting Rare Components, not iron or tin, produced by the Prospector. For some products, he must purchase additional crafting components from the Novice or Expert Jeweller vendor.
Critical Success
To critically succeed while crafting item, a Jeweller must have achieved proficiency in the crafting tier for that item. After gaining proficiency, the base chance to achieve critical success starts at 5%.
Jeweller Mastery Components
A complete list of Jeweller Mastery Components.
Recipes
A complete list of Jeweller recipe indexes by tier:
A complete list of Jeweller recipes listed alphabetically:
An index of items that can be crafted using Jeweller recipes
Crafting Guild
Crafting Guilds are Reputation factions that grant advantages in recipe execution. Reputation is increased by bartering special crafted items. Membership in a Crafting Guild used to be exclusive - you can be a member of 2 crafting guilds at a time (as of Update 25).[1]x
Jewellers of all levels are eligible to join the Jeweller's Guild, but the guild recipes require Expert tier and above. To join a crafting guild, one must first speak to a Master of Crafting Guilds, and they are always found in the vicinity of a guild hall and at many other locations. Then, travel to Craft-hall of Esteldín, in North Downs and speak with Guild Leader Aldúlf to continue the quest. The Jeweller's Guild-hall is found at the back of the craft hall.
NOTE: since Update 27, players may find the guild NPCs located in the House of Craft in Minas Tirith (Midsummer) [23.2N, 54.9W] to be preferable to Esteldín, especially since an Tinker's second guildable profession -- Cooking -- can also be guilded in the same location in Minas Tirith (Midsummer), thus obviating a separate trip. Minas Tirith (Midsummer) is available to characters of all levels. At Minas Tirith (Midsummer), the symbol (Reputation Item) recipes are purchased from the Guild-leader; there is no separate NPC for guild-reputation-item recipes, as there is in other locations. The only downside of Minas Tirith (Midsummer) is that the "Introduction" quests for each guilded profession cannot be turned into the Guild-leader, since those quests require a specific named NPC, who does not reside there.
Quests
Class Quests
Using Your Skills
Reputation Quests
The following quests give reputation for Thorin's Hall:
NPCs
Novice Jewellers
Expert Jewellers
Named Expert Jeweller NPCs. There are numerous unnamed ones.