The Water
Jump to navigation
Jump to search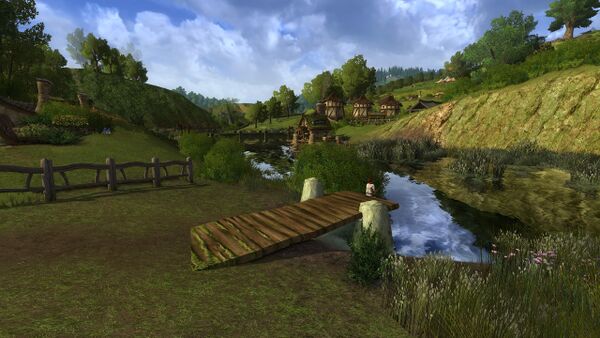 The Water is a river that arises from Rushock Bog, which in turn is fed by rivers rising in the Far Downs and the southern mountains of Evendim. The Water runs through Hobbiton where it is crossed by the Bywater Bridge, past Bywater forming the Bywater Pool when the Norbourn enters it, through the Frogmoors, past Budgeford, passing north of Stock, and empties into the Brandywine River just north of the Brandywine Bridge.
The Water is mentioned several times in the "The Hobbit" and the trilogy about The Ring and The Fellowship.
Maps
Gallery
The village of Long Cleeve is situated above the Water's course tucked on the side of the valley.

As the forest clears, the Water arrives at the village Nobottle, the central hub of activity in the Yondershire.

Beyond Nobottle, the river receives the flow of the side branch from Ost Lagorath, becoming much wider.

The Water then heads southeast into the Shire proper, again meeting the road which will follow along it through the rest of its course, starting with a pair of bridges.

The river then passes the village of Needlehole before it enters Rushock Bog, a swampy region in the western part of the Shire.

A quaint place bustling with busy hobbits, this area also hosts a bridge crossing the Water to ascend the Hill to the Party Tree.

The river proceeds to shed this excess flow in the Frogmoors, once again creating a marshy area to the joy of many frogs.

On the Water flows to south of Budgeford, where the water is indeed fordable amid the shallows and where river water aids farmers tending their fields.

Finally, the Water joins the much wider flow of the Brandywine river on its long journey toward the ocean.