Tinnudir
Jump to navigation
Jump to search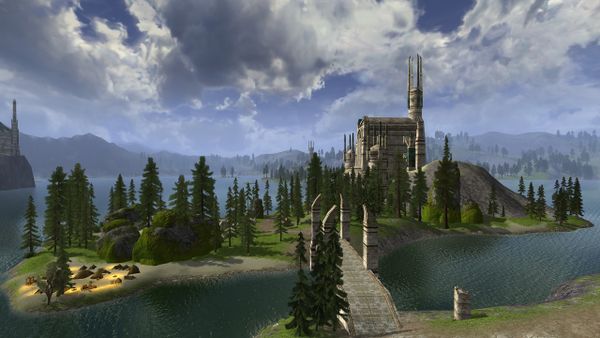 Location
Tinnudir (Sindarin for Dusk-watch) is a settlement located within the area of Parth Aduial in Evendim. [12.2S, 67.5W]
At the south-eastern part of the island Calenglad and a party of Dúnedain Rangers have established an encampment, keeping watch over the region. For years the Rangers as well as a number of upstanding men of Evendim have maintained the camp, sheltered by no more than ruined walls of ancient buildings. Their main task is to keep tomb-robbers and Angmarim from finding the Silithar until Aragorn may recover it. Many years have gone since he failed his first attempt, could this be the time for his trusted friend to succeed in this task. Tinnudir is Sindarin for "Twilight Watch".
This large encampment provides services such as a Bard, Vault, Dock-master and Stable-master, class trainers, quest givers, and more. Quests from this location are mainly targeted towards directions of Ost Forod, Men Erain, and Annúminas. At the southern tip is a Skirmish Camp.
Notice: Tinnudir consists of the main camp, a complementary camp, and the Tinnudir Keep. This page is for the main camp; it provides a summary of the other locations but details are listed at their individual pages.
Services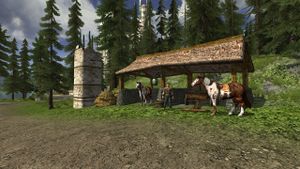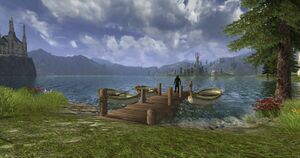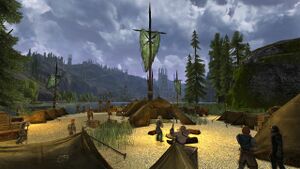 The following services can be found within the settlement of Tinnudir:
Mailboxes
Crafting
Travelling
Quests
See Tinnudir Quests for all quests starting at this island.
Starting
Epic Quests:
Involving
Epic Quests:
NPCs
See Tinnudir NPCs for all NPCs at this island.
Supplies & Services
Class Trainers
Others
| NPC | Function | Coords |
| --- | --- | --- |
| Astiul | Task-master - Quest | [12.6S, 67.2W] |
| Calenglad | Quest | [12.7S, 67.2W] |
| Cuguminuial | Quest | [12.7S, 67.0W] |
| Ferrod | Quest | [12.8S, 67.2W] |
| Forchon | Quest | [12.6S, 67.4W] |
| Gúrhebnir | Quest | [12.6S, 67.4W] |
| Horace Roxhythe | Quest - Hunter | [12.5S, 67.3W] |
| Kelsey West | Quest | [12.6S, 67.4W] |
| Nadfaron | Quest | [12.5S, 67.4W] |
| Naethmunn | Quest | [12.7S, 67.0W] |
| Orchalwë | Quest | [12.5S, 67.4W] |
| Ringlor | Quest | [12.8S, 67.1W] |
| Brogdagnir | | [12.5S, 67.4W] |
| Halsey Reed | | [12.8S, 67.2W] |
| Harmony Grayson | | [12.6S, 67.2W] |
| Unity Tilden | | [12.6S, 67.2W] |
| Ranger | Free Peoples | |
Civic Structures and Facilities
Notice: The different locations within this section, "civic structures and facilities," individually list quests, NPCs of different types, and more, which are pertainent to each of them.
Tinnudir (Keep)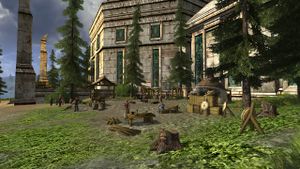 Tinnudir (Keep) is a settlement located within the area of Parth Aduial in Evendim. [12.2S, 68.0W]
This is a complementary camp to Tinnudir; on the Evendim map there are two markers for Tinnudir, this is the western marker. Here is also the Tinnudir Keep that provides yet more quests and NPCs. Altogether this location with the impressive building depicts an era when the Númenóreans dwelt around Lake Nenuial (Lake Evendim); thus representatives for The Wardens of Annúminas are found here.
---
Tinnudir Keep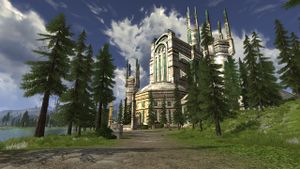 Tinnudir Keep is an interior and a quest instance located in Tinnudir. [12.0S, 68.0W]
At a well protected island in eastern Lake Evendim this decayed keep is still used by the Rangers of the North. Visitors may enter the impressive entrance, the main hall, and the staircases for the east and west wings. Having the right quests allows for passage beyond these rooms.
Gallery