Bree-town Hall
Jump to navigation
Jump to search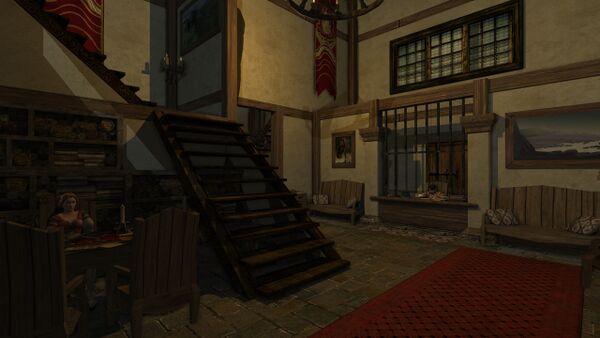 Bree-town Hall is an interior and a landmark within Bree, in Bree-land. [31.1S, 51.2W]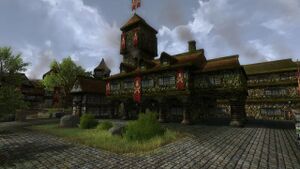 It is located in the eastern part of town, at the crossroads of the Great East Road, the road to Staddle, and local alleys. The great road runs past the northern Market Square and Trader's Gate and continues south via the Woodsmen's Gate and South Gate beyond. The western alleys connects to Jasmine's Garden as well as past High Stair and the Stone Quarter beyond.
The town-hall itself provides several services such as a Clerk of Kinships and a Notary, quest givers, and more. Mayor Graeme Tenderlach is found in his office at the first floor.
The Bree-town Hall Courtyard hosts the southern Weapons and Armour Shop and the Bree-town Jail with its class trainers.
Services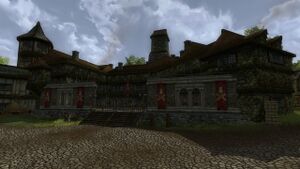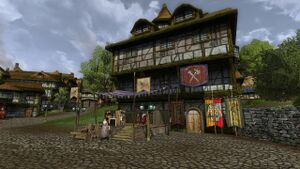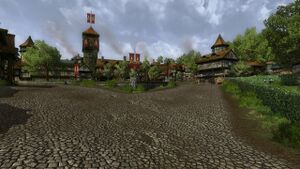 Civic Facilities
NPCs
NPC
Function
Coords
Indoors
Bonnie Milkweed
Notary
Walt Hollytree
Clerk of Kinships
Mayor Graeme Tenderlarch
Quest
Watcher
Outdoors
Northel
Explorer of Eregion - Quest

[31.1S, 50.8W]

Tad Ashmead
Quest

[31.3S, 51.1W]

Blacksmith
Townsperson
Watcher
Quests
Starting:
Involving:
Mobs
The following mobs are found at this area during skirmishes:
Bálak - General of the Enemy
Gallery