Sprigley's Farm
Jump to navigation
Jump to search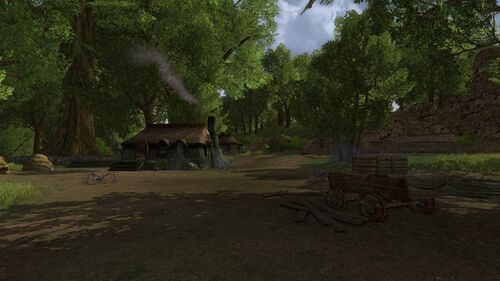 Location
Sprigley's Farm is a landmark within Archet Dale in Bree-land. [27.8S, 47.9W]
This is now a derelict farmstead found in the southern Archet Dale. However, before the Blackwold's Assault on Archet this farmstead was well tended by Cal Sprigley and his wife, Holly, and farmhands. Those days, during the introduction quests for hobbit and man, also provisioner Harry Greencorn made his living here.
However, during the attack Cal, his wife, and Harry escaped from the farm. Later, when trying to return, they found its cellar completely overrun by a swarm of monstrous spiders. Until these spiders are defeated it will be impossible for the couple to return to this property.
Timeline
Players experience Sprigley Farm at two points in time, before and after the Assault on Archet, but unlike other places where this occurs, can only go forward in time as they work through the introductory story line, and cannot go back to revisit an earlier time.
Quests
Starting
Before the Assault on Archet
Involving
Before the Assault on Archet
After the Assault on Archet
NPCs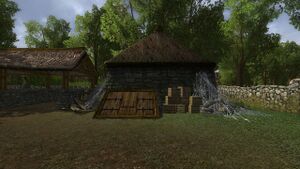 Mobs
The following creatures are found around this location:
Before the Assault on Archet
After the Assault on Archet
Gallery