Lhûn
Jump to navigation
Jump to search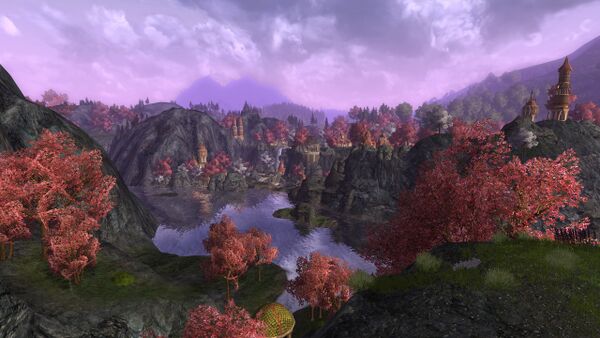 The river Lhûn flows in the eastern part of Ered Luin past the areas of Haudh Lin and Kheledûl, through Falathlorn, and past Celondim before it flows on to Mithlond and the sea. At Kheledûl friendly dwarves used run the docks, as do the elves in Celondim. Just below Duillond, at a high bridge across the Lhûn the Eastway runs from Thorin's Hall to Needlehole, in the Shire. The river is known as Lune to hobbits and men.
Lore
Course of the River
Maps
Gallery
The tundra landscape stretches out before it as the river turns down the gorge past Norsu-hauta.

The Gauredain prowl the river's upper reaches, and wildlife drink its clear waters.

The island of Kissa-sari splits the stream in two, the fresh water able to keep stands of fir trees alive despite the bitter cold.

Beyond the island and its stalking saber-tooths, the Lhûn rejoins itself and keeps flowing.

After another drop and a bend, the river flows off to the south and away from Forochel, crossing vast stretches of tundra and mountain valleys.

Far to the south, in Ered Luin, the river emerges again from its long journey on its very last stretch.

The fortress of Lhúngobel, named after the river, sits on a high ridge above the water.

The Lhûn then passes into Falathlorn, the Elven realm that sees the river on its last journey to the sea.

Here, the Lhûn's only crossing stands astride the river, an important bridge that connects all the western realms to the rest of Eriador.

The elven city of Duillond lies high above the river, offering splendid views in three directions.