The Horsefields
Jump to navigation
Jump to search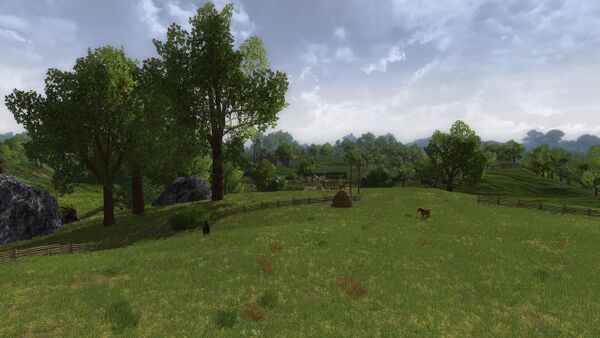 Horsefields is an area within Bree-land in the central region.
The rolling green fields are located between the Northern and the Eastern Bree-fields. They are also encompassing, but not containing, the Hengstacer Farm. Besides some ruins this area is not too exciting but offers a few quests and wildlife for the quite new characters.
However, during festivals this is completely turned upside down...
During any festival this area lives up when all kinds of races engage in the different activities that are found at the playgrounds. At the Festival Grounds and the Hedge Maze many different games take place. The maze and the horse races are popular, but visitors are seen carefully inspecting the unique items that may be bartered or bought. See the individual location pages for NPCs and quests.
Services
NPCs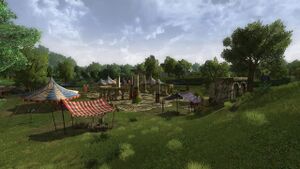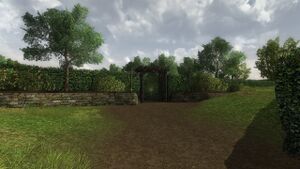 See "list of NPCs" within The Horsefields
NPC
Function
Coords
Biddy Dogwort
Tag Games Master

[26.1S, 49.7W]

Tad Hollyway
Tag Games Master

[25.6S, 50.9W]

Oddvarr
Quest

[23.0S, 51.0W]

Stallion of the Horsefarm
Quest

[21.5S, 51.1W]

Belba Hardbottle
Hobnanigans - Steel Beaks Capt

[25.7S, 51.8W]

Carnelian Bracegirdle
Hobnanigans - Steel Beaks Capt

[25.7S, 52.3W]

Dimple Grubb
Hobnanigans - Flying Feathers Capt

[25.7S, 51.2W]

Gorbulas Millstone
Hobnanigans - Flying Feathers Capt

[25.6S, 51.8W]

Haggo Boffin
Hobnanigans - Flying Feathers Capt

[25.7S, 52.0W]

May Tighfield
Hobnanigans - Steel Beaks Capt

[25.4S, 51.8W]

Melilot Toadfoot
Hobnanigans - Steel Beaks Capt

[25.7S, 51.5W]

Olo Knotwise
Hobnanigans - Flying Feathers Capt

[25.9S, 51.8W]

Field 1 Referee
Hobnanigans

[25.7S, 52.2W]

Field 2 Referee
Hobnanigans

[25.5S, 51.8W]

Field 3 Referee
Hobnanigans

[25.9S, 51.8W]

Field 4 Referee
Hobnanigans

[25.6S, 51.4W]
Quests
See "starting quests" and the landmarks for more quests
Starting:
Involving:
Creatures
The following creatures are found within the area:
Maps
Gallery