Goldberry's Spring
Jump to navigation
Jump to search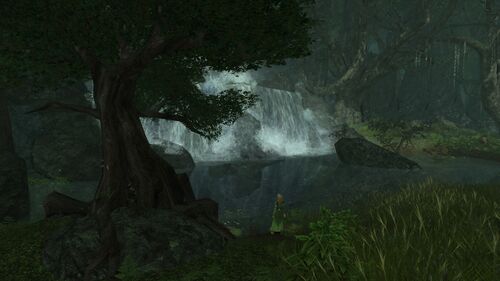 Location
Goldberry's Spring is a landmark within the Old Forest in Bree-land. [31.1S, 59.4W]
Located in the northern part of the Old Forest is this seemingly peaceful small lake and its exquisitely beautiful river-daughter, Goldberry, wife of Tom Bombadil. However, the way to her is not the easiest, and then also carrying a bucket of water.... Water-bearers may try the roundabout and run south-west following the forest wall northwards past the wildlife, or, they may try the straighter trail towards north-east and try to avoid trapping roots and fell oaks.
Deeds
The following deeds can be obtained by visiting this place:
Quests
Involving:
The Ballad of Bingo Boffin quest chain
NPCs

Goldberry
Mobs
Lore
This pond is favoured for its beauty by the River-daughter Goldberry, wife of the enigmatic Tom Bombadil.
Gallery