Bronwe's Folly
Jump to navigation
Jump to search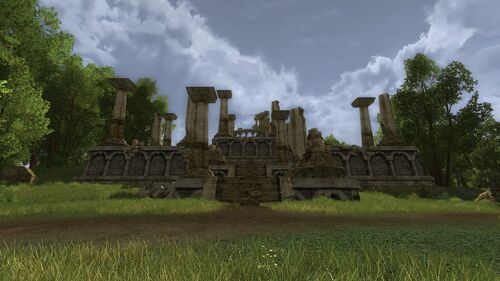 Location
Bronwe's Folly is a landmark within Archet Dale in Bree-land. [27.1S, 48.0W]
These ruins are located at the centre of Archet Dale. They are also known for the Kingsfoil flowers with their healing potency. However, recently wolves have overrun the ruins.
Deeds
The following deeds can be obtained by visiting this locations:
Note: Deeds are available once the intro quests are completed.
Quests
Involving:
Mobs
The following creatures are found within this area:
Before the Assault on Archet
After the Assault on Archet
Lore
Bronwe's Folly is an ancient ruin located in the Archet Dale area. Little lore remains from the days of the North Kingdom, but it is said that these ruins are all that remain of a Cardolan lord's failed attempt to hold back the wrath of Angmar.
Gallery