Elrond's Stables
Jump to navigation
Jump to search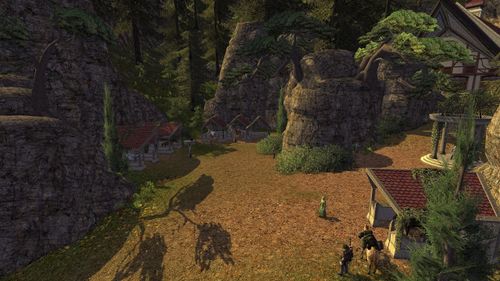 Description
Elrond's Stables is a landmark within Rivendell Valley in the Trollshaws. [29.3S, 6.7W]
The Stables are located furthest to the west of the valley, west of the Market and north of the Bruinen river. The larger stables are locked up but there are many horses in the southern part, where Stable-master Ladrochan is found, selling swift rides to several locations throughout Middle-earth.
Later in the Epic story some well-known characters will appear by the Stables temporarily, before travelling south as the story continues. Bert Bartleby can be found here as well after reaching the appropriate point in the Bingo Boffin quest line.
Services
Travelling
Behind Ladrochan there is a horse which can be interacted with for a free, instant travel to Canaddal on the High Moor.
Quests
Starting
Involving
NPCs
Permanent NPCs
Gallery