The Angle of Mitheithel
Jump to navigation
Jump to search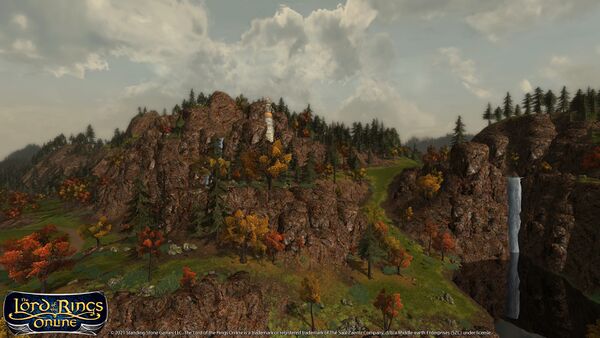 The Angle of Mitheithel is an area within the Trollshaws, in the southernmost tip of the Trollshaws.
This area is the wedge-formed piece of land between the Bruinen and the Hoarwell rivers, thus the name "Angle". Stretching south from the Trollshaws to the very junction of the two rivers is a wild land of rocky hills and deep pine-woods, and a graveyard of ancient kingdoms. The ruins of Elves and Men alike crumble among the trees, and the Rangers steal through the shadows of the trees, ever watchful, carrying out secret assignments as the north grows more dangerous by the day.
All activities within the Angle benefit the Defenders of the Angle faction. The three settlements provide normal services and stable-masters.
Access to the Angle requires the Rangers and Ruins quest pack, or VIP account.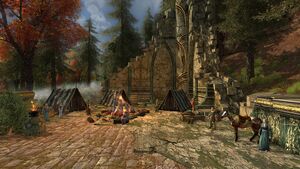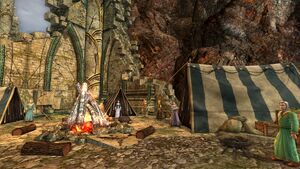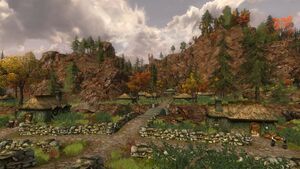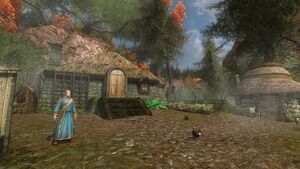 Crafting Tier(s):
Resource Locations:
All areas of the Angle. Levels are mixed throughout.
NPCs
See "list of NPCs" within the area
NPC
Function
Coords
Brungos
Quest

[44.2S, 21.4W]

Calithil
Quest

[42.5S, 22.8W]

Demúr
Quest

[45.0S, 21.6W]

Garan Maythorn
Quest

[37.6S, 21.5W]

*
Hal Twayblade
Quest

[38.7S, 18.5W]

Idhrien
Quest

[42.8S, 22.4W]

*
Lagordal
Quest

[42.2S, 22.2W]

*
Mandan
Quest

[40.7S, 20.8W]

Onora
Quest

[40.7S, 19.0W]

*
Ravaedron
Quest

[35.2S, 22.0W]

*
Rúdhan
Quest

[40.8S, 19.0W]

*
Waltney Maythorn
Quest

[37.6S, 21.5W]

*
* NPC who is encountered at many coordinates within the Angle
Quests
See "starting quests" and the landmarks for more quests
Starting:
Creatures
The following creatures are found within the area:
Lore
The "Angle of Mitheithel" was first previewed in the new quarterly Lotro producer's letter by Raninia.
Maps
Map of the Angle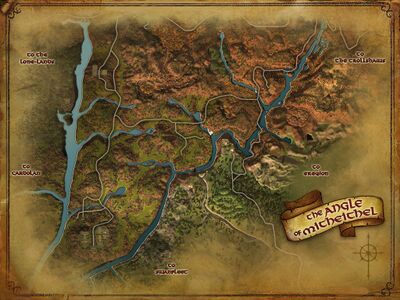 Map of the Trollshaws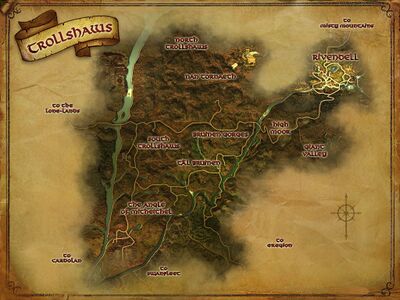 Gallery