North Trollshaws
Jump to navigation
Jump to search

The North Trollshaws is an area within the Trollshaws, in the north-western region.
This area is characterized by its many canyons and ridges punctuated by crumbling Arnorian ruins and thick pine trees. A wide array of vile creatures make their home here, from vicious spiders to corrupted wood-trolls to brutish stone-trolls. There are a few passages into this area, the western is from South Trollshaws, just east of Ost Dúrgonn, and a few are from Nan Tornaeth.
To the south-east, nestled deep within the hills and valleys, is the Stone-trolls' Glade. Yet today stand the trolls that Gandalf tricked into stone statues, just as they did when Bilbo Baggins and his dwarven friends left them behind.
To the north, Thoroniel keeps a worried eye over the aggravated wild-life from the Scout's Camp. She is a supplier and quest-giver, and with her is a Stable-master. The high number and the strength of these creatures suggest adventurers to bring a fellowship, or exercise caution within these hills and ravines.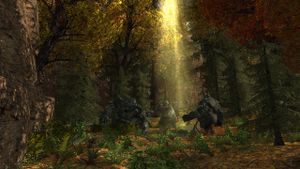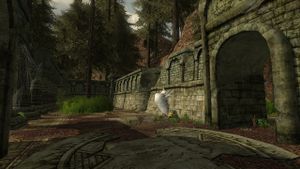 NPCs
See "list of NPCs" within the area
Quests
See "starting quests" and the landmarks for more quests
Starting:
Creatures
The following creatures are found within the area:
Maps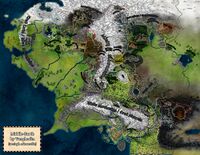 Gallery