Bingo Boffin
Jump to navigation
Jump to search
Description
Bingo Boffin is mostly-ordinary hobbit of the Shire who lives in his hobbit-hole in the northern district of Michel Delving.
Bingo is also visiting the Yondershire and can be met at Tighfield.
The following text is about the "The Ballad of Bingo Boffin"
He is the protagonist of the Ballad of Bingo Boffin, a series of quests related to Episodic Content. Every Wednesday during the original questline release, a new quest involving Bingo was unlocked and sees him start an adventure of his own. Today, all of the quests can be played without a weekly delay, although there are still mentions of "every Wednesday" in the quest text.
 

Request for Assistance!

starts the adventure, but can also be started by visiting Bingo
Bingo's Hobbit Hole - Boffin Manor - is found in Michel Delving, just north of the Town Hall
During the adventure Bingo will appear at the location of each quest, but only until it has been completed
Bert Bartleby will provide information about Bingo's current location. Bert also barters a variety of items for Bingo Badges
Inside Boffin Manor are "Bingo's Notes" which allow replay of all the quest instances of the adventure
Quest Involvement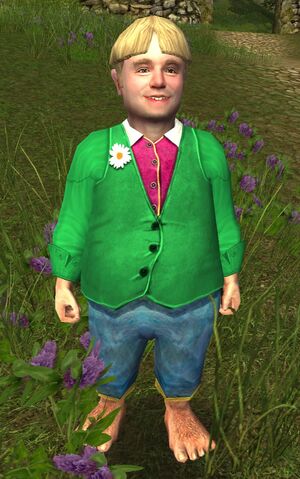 The Ballad of Bingo Boffin quests:
Thank you for playing through The Ballad of Bingo Boffin!

See The Ballad of Bingo Boffin Quests for dates of appearance, as well as Episodic Content for background.
Spoiler Alert
Previously on The Ballad of Bingo Boffin:
Gallery
Earning

 Bingo Badges from his quests allows bartering with Bert Bartleby for the following cosmetic pets: