Lossoth of Forochel
Jump to navigation
Jump to search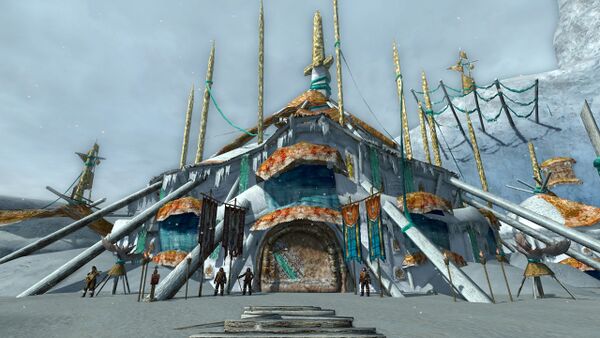 Lossoth of Forochel is a reputation faction located in Sûri-kylä, in Forochel.
The Snowmen of Forochel are a distrustful and superstitious people, dwelling ever in the shadow of Angmar. It will take many great deeds to gain favour in their eyes.
A long time ago, a people known as the Forodwaith, who were used to endure the bitter cold of the realm of Morgoth, settled in the far north. In the Third Age a remnant of these people was known as the Lossoth or the Snowmen of Forochel. The Lossoth lived on the Cape of Forochel most of the time, but they also camped on the southern shore of the Ice Bay of Forochel, at the feet of the Blue Mountains.
Location and NPCs
Hangout: The Great Lodge in northwestern Sûri-kylä. [19.5N, 72.0W]
Lossoth of Forochel was introduced with the Book 13: Doom of the Last-king, in 2008.
Name
Function
Arvo
Lossoth Heavy Armoursmith
Mîmu
Lossoth Furnisher
Rûsu
Lossoth Reward Vendor
Sanelma
Lossoth Medium Armoursmith
Untamo
Lossoth Light Armoursmith
Gaining Reputation
Quests
Repeatable Quests
Tasks Bulletin Boards
Reputation tasks
Tasks can be turned in to the Tasks Bulletin Board for reputation at these locations:
---
Creatures
Reputation Items
Deeds
Deeds that yield reputation points
            Forochel Deeds Overview            
Deed
Type
Virtue
Title
LP
Rep
Faction
Details
Deeds of Forochel
Meta
+2,000
1,200
Lossoth of Forochel
Complete 2 meta and 2 quest deeds
Explorer of Forochel
Meta
+2,000
900
Lossoth of Forochel
Complete 2 explorer deeds
Slayer of Forochel
Meta
+2,000
900
Lossoth of Forochel
Complete 6 slayer deeds in Forochel
Ancient Stones of Forochel
Explorer
+2,000
5
500
Lossoth of Forochel
Find 5 ancient structures in Forochel
The Battle for Forochel
Explorer
+2,000
5
500
Lossoth of Forochel
Find 4 Gauradan camps
Treasure of Forochel
Explorer
+2,000
Treasure Seeker of Forochel
10
900
Lossoth of Forochel
Find Ancient Treasure in Forochel
Forochel Expeditionary
Quest
+2,000
10
300
Lossoth of Forochel
Complete 10 quests in Forochel
Forochel Survivor
Quest
+2,000
10
500
Lossoth of Forochel
Complete 20 quests in Forochel
Forochel Pioneer
Quest
+2,000
15
700
Lossoth of Forochel
Complete 30 quests in Forochel
The Lost Fellowship
Quest
Hero of the Lost
5
700
Lossoth of Forochel
Aid the members of the lost fellowship
Roving Threats: Forochel's Roving Enemies
Quest
+2,000
Roving Defender of Forochel
5
900
Lossoth of Forochel
Complete 4 Roving Threat quests in Forochel
Angmarim-slayer
Slayer
Angmar's Bane
5
500
Lossoth of Forochel
Defeat 100 Angmarim in Forochel
Angmarim-slayer (Advanced)
Slayer
+2,000
10
700
Lossoth of Forochel
Defeat 200 Angmarim in Forochel
Dourhand-slayer
Slayer
Warden of the Mines
5
500
Lossoth of Forochel
Defeat 100 Dourhand Dwarves in Forochel
Dourhand-slayer (Advanced)
Slayer
+2,000
10
700
Lossoth of Forochel
Defeat 200 Dourhand Dwarves in Forochel
Gauradan-slayer
Slayer
Repulser of Savages
5
500
Lossoth of Forochel
Defeat 100 Gauradan in Forochel
Gauradan-slayer (Advanced)
Slayer
+2,000
10
700
Lossoth of Forochel
Defeat 200 Gauradan in Forochel
Grim-slayer
Slayer
The Ice-render
5
500
Lossoth of Forochel
Defeat 40 Grims in Forochel
Grim-slayer (Advanced)
Slayer
+2,000
10
700
Lossoth of Forochel
Defeat 80 Grims in Forochel
Sabre-tooth Slayer
Slayer
Fang-breaker
5
500
Lossoth of Forochel
Defeat 100 Sabre-tooths in Forochel
Sabre-tooth Slayer (Advanced)
Slayer
+2,000
10
700
Lossoth of Forochel
Defeat 200 Sabre-tooths in Forochel
Worm-slayer
Slayer
Wrath of Winter
5
500
Lossoth of Forochel
Defeat 100 Worms in Forochel
Worm-slayer (Advanced)
Slayer
+2,000
10
700
Lossoth of Forochel
Defeat 200 Worms in Forochel
Totals (without Treasure & Roving Threats):
+30,000
140
12,200
Lossoth of Forochel
Totals (Treasure & Roving Threats):
+4,000
15
1,800
Lossoth of Forochel
Rewards
Vendor Items
Vendor: Mîmu
Item
Faction
Cost
 

Forochel

14 
 

Small Gauredain Totem

16 
 

Large Gauredain Totem

16 
 

Giant Mammoth Tusk

Friend
16 
 

Frost-antler Pole

Friend
16 
 

Frost-antler Stand

Kindred
16 
 

Lossoth Smoke Tent

Kindred
16 
Vendor: Rûsu at Acquaintance standing
Item
Faction
Cost
 Baked Flounder Recipe
Ally
20 90 
 

Ceremonial Bear-fur Cloak

Kindred
8 17 
 

Ceremonial Cloak of Ajokoira

Acquaintance
8 17 
 

Ceremonial Cloak of Leijona

Ally
8 17 
 

Ceremonial Cloak of Mammutti

Kindred
8 17 
 

Cloak of Ajokoira

Acquaintance
28 12 
 

Cloak of Leijona

Ally
29 60 
 

Cloak of Mammutti

Kindred
44 80 
 Flounder Fillet Recipe
Kindred
22 
 Flounder with Bacon Recipe
Friend
22 
 

Guide to Sûri-kylä

Acquaintance
130 72 
 

Heavy Cloak of Ajokoira

Friend
30 20 
 

Heavy Cloak of Leijona

Ally
30 80 
 

Heavy Cloak of Mammutti

Kindred
48 
 Keriä-laulu Bow Recipe
Kindred
23 
 Major Lossoth Herald Armaments Recipe
Kindred
23 
 Masterclass Lossoth Herald Armaments Recipe
Kindred
28 76 
 Mestari-vimma Sword Recipe
Kindred
23 
 

Muster in Sûri-kylä

Acquaintance
130 72 
 

Prized Tundra Steed

Kindred
5 64 
 

Sail to Sûri-kylä

Acquaintance
273 60 
 Satakieli Harp Recipe
Kindred
23 
 Supreme Lossoth Herald Armaments Recipe
Kindred
40 24 
 Talisman of the Tundra Cub Recipe
Kindred
17 24 
 Teräs-sydän Heavy Shield Recipe
Kindred
23 
 Vaiti-voima Club Recipe
Kindred
23 
Vendor: Arvo at Friend standing — Heavy Armoursmith
Item
Faction
Cost
 Mammutti Gloves Recipe
Friend
23 
 Mammutti Shoulder Guards Recipe
Friend
23 
 Mammutti Armour Recipe
Ally
23 
 Mammutti Boots Recipe
Ally
23 
 Mammutti Helm Recipe
Kindred
23 
 Mammutti Leggings Recipe
Kindred
23 
Components
 

Fur Lining for Mammutti Armour

7 20 
 

Fur Lining for Mammutti Boots

7 20 
 

Fur Lining for Mammutti Gloves

7 20 
 

Fur Lining for Mammutti Helm

7 20 
 

Fur Lining for Mammutti Leggings

7 20 
 

Fur Lining for Mammutti Shoulder Guards

7 20 
Vendor: Sanelma at Friend standing — Medium Armoursmith
Item
Faction
Cost
 Leijona Gloves Recipe
Friend
23 
 Leijona Shoulder Guards Recipe
Friend
23 
 Leijona Armour Recipe
Ally
23 
 Leijona Boots Recipe
Ally
23 
 Leijona Helm Recipe
Kindred
23 
 Leijona Leggings Recipe
Kindred
23 
Components
 

Fur Lining for Leijona Armour

7 20 
 

Fur Lining for Leijona Boots

7 20 
 

Fur Lining for Leijona Gloves

7 20 
 

Fur Lining for Leijona Helm

7 20 
 

Fur Lining for Leijona Leggings

7 20 
 

Fur Lining for Leijona Shoulder Guards

7 20 
Vendor: Untamo at Friend standing — Light Armoursmith
Item
Faction
Cost
 Ajokoira Shoulder Guards Recipe
Friend
23 
 Ajokoira Gloves Recipe
Friend
23 
 Ajokoira Armour Recipe
Ally
23 
 Ajokoira Shoes Recipe
Ally
23 
 Ajokoira Hat Recipe
Kindred
23 
 Ajokoira Leggings Recipe
Kindred
23 
 Great Hoary Aurochs Robe Recipe
Kindred
23 
Components
 

Fur Lining for Ajokoira Armour

7 20 
 

Fur Lining for Ajokoira Gloves

7 20 
 

Fur Lining for Ajokoira Hat

7 20 
 

Fur Lining for Ajokoira Leggings

7 20 
 

Fur Lining for Ajokoira Shoes

7 20 
 

Fur Lining for Ajokoira Shoulder Guards

7 20 
Titles / Passive Skills