Defenders of Minas Tirith
Jump to navigation
Jump to search
This page is about the reputation faction Defenders of Minas Tirith. For the City of Minas Tirith, see Minas Tirith (disambiguation).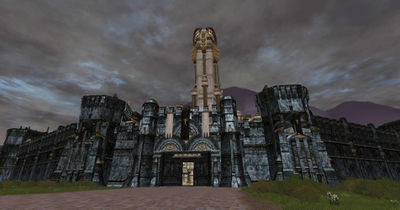 Description
The Defenders of Minas Tirith is a reputation faction located in Old Anórien. After you gain Kindred status you can gain access to three additional "Fellowships" barters for additional rewards.
Much of the population in Minas Tirith has left their city to take refuge at Tumladen and Imloth Melui in the South. Mithrandir (the name given to the Wizard known as Gandalf in the North) and Prince Imrahil lead the city's remaining occupants against the Eastern threat out of Mordor and the Morgul Vale.
Location and Officials
Gaining Reputation
Quests
Quests which grant reputation with this faction (Click arrow to expand the list):
Repeatable Quests
Some "fellowship" quests can be done before Kindred standing, but you wont be able to use the coins rewarded until after you have Kindred standing.
Repeatable Warbands Quests
Repeatable After Battle Quests
Locations:
Tasks
Deeds
All deeds give reputation, some give Silver Coins too:
For more detail, see Old Anórien Deeds
Reputation and Barter Items
Coins are used for barter. the "fellowship" coins can't be used for barter until after you are Kindred standing
Coin Exchange
Some coins can be exchanged after you have Kindred standing
Burgsmen's Fellowship
The Burgsmen's Fellowship has been trying to combat the Withered tree, who spread lies to those good people who still dwell in the city. You must be Kindred with Defenders of Minas Tirith. Heledon [65.7S, 16.9W] offers you a wrapper quest that sends you to Rathon [64.7S, 19.9W]. Speaking to Rathon allow access to the Cisterns of Minas Tirith Public Instance. Be sure to pick up all the associated quests before you leave.
Repeatable Daily
Be sure to go back to Heledon after you are finished, because the repeat timer does not start until after you've spoken with him. For example, repeatable quests reset at 3:00 a.m. server time, so if you complete it at 2:00 a.m. server time, and neglect him for an hour, your timer will not reset until the next day.
Total Daily Quests rewards

10

 

Minas Tirith - Burgsmen's Token

s and

7

 

Minas Tirith Silver Piece

s
Heledon (Burgsmen's Fellowship)

[65.7S, 16.9W]
Smiths' Fellowship
The Smiths's Fellowship has been working on making weapons for the soldiers of Gondor but their metal supplies are slowly dwindling. You must be Friends with Defenders of Minas Tirith. Narnaith [65.7S, 16.9W] offers you a wrapper quest that sends you to Turgon[72.0S, 19.4W]. Speaking to Turgon allow access to the South-gate Harlond Public Instance. Be sure to pick up all the associated quests before you leave. South-gate Repeatable Daily (require Friend status with Defenders of Minas Tirith):
[100] Assisting the Smiths' Fellowship - from Minas Tirith to South-gate
Be sure to go back to Narnaith after you are finished, because the repeat timer does not start until after you've spoken with him. For example, repeatable quests reset at 3:00 a.m. server time, so if you complete it at 2:00 a.m. server time, and neglect him for an hour, your timer will not reset until the next day.
Total Daily Quests rewards

10

 

Minas Tirith - Smiths' Token

s and

7

 

Minas Tirith Silver Piece

s
Narnaith (Smiths' Fellowship)

[65.7S, 16.9W]
Builders' Fellowship
The Builders' Fellowship has been working on repairs to the Rammas Echor up until the Morgul-host took the Causeway Forts. You must be Friends with Defenders of Minas Tirith. Londir [65.7S, 16.9W] offers you a wrapper quest that sends you to Ingold [59.6S, 16.6W]. Speaking to Ingold allow access to the North-gate Rammas Echor Public Instance. Be sure to pick up all the associated quests before you leave. North-gate Repeatable Daily (require Friend status with Defenders of Minas Tirith):
[100] Assisting the Builders' Fellowship - from Minas Tirith to North-gate
Be sure to go back to Ingold after you are finished, because the repeat timer does not start until after you've spoken with him. For example, repeatable quests reset at 3:00 a.m. server time, so if you complete it at 2:00 a.m. server time, and neglect him for an hour, your timer will not reset until the next day.
Total Daily Quests rewards

10

 

Minas Tirith - Builders' Token

s and

7

 

Minas Tirith Silver Piece

s
Londir (Builders' Fellowship)

[65.7S, 16.9W]
Rewards
Reward Barter Items
Acquaintance
Friend
Ally
Kindred
Respected
Honoured
Celebrated