The Yonder-watch
Jump to navigation
Jump to search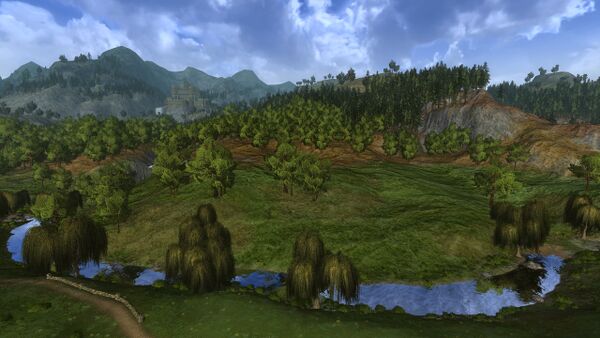 The Yonder-watch is a reputation faction located in the Yondershire, in the Shire.
While the upstart Lotho Sackville-Baggins aims to bully the hobbits of Yondershire, the Yonder-watch are not too keen on his designs. Instead they plan for their defence while accepting help from friendly adventures for interesting items offered by their quartermasters.
Originally an unofficial branch of the Watch, the Hobbits of the Yonder-watch have dedicated themselves to the preservation and protection of the wildest frontiers of the Shire. Traditionally led by the Reeves of Yondershire since the time of Bandobras 'Bullroarer' Took, they are now overseen by Rosalinda North-took of Long Cleeve. Although they count themselves among few dwelling in the Shire to come into regular contact with the Rangers of the North and dabble in other curiosities, they remain faithful to their duty: patrolling the borders of the Shire, or as they prefer to say, 'beating the Bounds'.
Location and NPCs
Quartermasters are found in Nobottle, Long Cleeve, Tighfield and Gamwich.
The Yonder-watch was introduced with the Yondershire quest pack, with Update 33.
Access requires the quest pack, or VIP account.
Gaining Reputation
This faction is unique in that each reputation level requires just ??? points to advance.
Quests
See the Yondershire quests for quests per location.
Deeds
Deeds that yield reputation points
Rewards
Barter Items
Barterer: Quartermaster at Acquaintance standing
  Item to Receive    
  Items to Trade  
Yonderwatch Acquaintance - Travel Skills
 

Return to Nobottle

10 Copper Bounder's Coins
 

Guide to Nobottle

10 Copper Bounder's Coins
 

Muster at Nobottle

10 Copper Bounder's Coins
Yonderwatch Friend - Housing Items
 

The Humble Pony

3 Copper Bounder's Coins
 

Hobbit Homes

3 Copper Bounder's Coins
 

Hobbit With a Pipe

3 Copper Bounder's Coins
 

Portrait of a Hobbit in Red

3 Copper Bounder's Coins
 

Study of a Tankard

3 Copper Bounder's Coins
 

Sunflower in Bloom

3 Copper Bounder's Coins
 

Homes upon Homes

3 Copper Bounder's Coins
 

Shire Wall Support

3 Copper Bounder's Coins
 

Coat Hooks

3 Copper Bounder's Coins
 

Medium Set of Coat Hooks

3 Copper Bounder's Coins
 

Long Set of Coat Hooks

3 Copper Bounder's Coins
 

Doorbell

3 Copper Bounder's Coins
 

Large Framed Map of Eriador

3 Copper Bounder's Coins
 

Pile of Parcels

3 Copper Bounder's Coins
 

Mail Sorter

3 Copper Bounder's Coins
 

Mail Satchel

3 Copper Bounder's Coins
 

Long Bench

3 Copper Bounder's Coins
 

Bar Counter

3 Copper Bounder's Coins
 

Bank Banner

3 Copper Bounder's Coins
 

Auction House Banner

3 Copper Bounder's Coins
 

Grass-filled Planter

3 Copper Bounder's Coins
 

Windowsill Planter

3 Copper Bounder's Coins
 

Flower-filled Planter

3 Copper Bounder's Coins
 

Colourful Braided Carpet

3 Copper Bounder's Coins
 

Shire Fireplace

3 Copper Bounder's Coins
 

Yondershire

3 Copper Bounder's Coins
 

Abandoned Plastered Smial Wall

3 Copper Bounder's Coins
 

Abandoned Stone Smial Wall

3 Copper Bounder's Coins
 

Brick Smial Wall

3 Copper Bounder's Coins
 

Plastered Smial Wall

3 Copper Bounder's Coins
 

Wooden Smial Wall

3 Copper Bounder's Coins
 

Tiled Smial Floor

3 Copper Bounder's Coins
 

Wooden Smial Floor

3 Copper Bounder's Coins
 

Abandoned Smial Floor

3 Copper Bounder's Coins
Yonderwatch Friend - Decorative Structures
 

Decorative Wall - 10m (Abandoned Plastered Smial)

3 Copper Bounder's Coins
 

Decorative Wall - 10m (Abandoned Stone Smial)

3 Copper Bounder's Coins
 

Decorative Wall - 10m (Brick Smial)

3 Copper Bounder's Coins
 

Decorative Wall - 10m (Plastered Smial)

3 Copper Bounder's Coins
 

Decorative Wall - 10m (Wooden Smial)

3 Copper Bounder's Coins
 

Decorative Wall - 20m (Abandoned Plastered Smial)

3 Copper Bounder's Coins
 

Decorative Wall - 20m (Abandoned Stone Smial)

3 Copper Bounder's Coins
 

Decorative Wall - 20m (Brick Smial)

3 Copper Bounder's Coins
 

Decorative Wall - 20m (Plastered Smial)

3 Copper Bounder's Coins
 

Decorative Wall - 20m (Wooden Smial)

3 Copper Bounder's Coins




 

Tall Decorative Wall - 10m (Abandoned Plastered Smial)

3 Copper Bounder's Coins
 

Tall Decorative Wall - 10m (Abandoned Stone Smial)

3 Copper Bounder's Coins
 

Tall Decorative Wall - 10m (Brick Smial)

3 Copper Bounder's Coins
 

Tall Decorative Wall - 10m (Plastered Smial)

3 Copper Bounder's Coins
 

Tall Decorative Wall - 10m (Wooden Smial)

3 Copper Bounder's Coins
 

Tall Decorative Wall - 20m (Abandoned Plastered Smial)

3 Copper Bounder's Coins
 

Tall Decorative Wall - 20m (Abandoned Stone Smial)

3 Copper Bounder's Coins
 

Tall Decorative Wall - 20m (Brick Smial)

3 Copper Bounder's Coins
 

Tall Decorative Wall - 20m (Plastered Smial)

3 Copper Bounder's Coins
 

Tall Decorative Wall - 20m (Wooden Smial)

3 Copper Bounder's Coins
 

Decorative Tiled Smial Floor

3 Copper Bounder's Coins
 

Decorative Wood Smial Floor

3 Copper Bounder's Coins
 

Decorative Abandoned Smial Floor

3 Copper Bounder's Coins




Yonderwatch Kindred - Cosmetic Pets
 

Tome of the White Goose

40 Copper Bounder's Coins
Yonderwatch Kindred - Mathom and Copper Bounder's Coin Exchange

2

 

Mathom

s
5 Copper Bounder's Coins

2

 

Copper Bounder's Coin

s
5 Mathoms
Titles / Passive Skills