Defenders of the Angle
Jump to navigation
Jump to search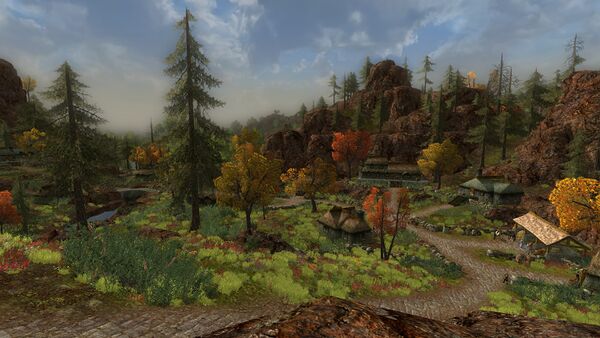 The Defenders of the Angle is a reputation faction located in the Angle of Mitheithel, in the Trollshaws.
For thousands of years, the Angle played host to countless devastating battles, earning the name Haudh Erthaid, the Tomb of Kingdoms. Now mostly wilderness once more, it offers sanctuary for those who do not wish to be found. Nestled in the arms of two difficult to pass rivers, the Angle is home to Rangers, Elves, and refugees alike.
Among those who defend the Angle of Mitheithel are the Rangers of Tornhad, Elves of Rivendell who possess both a long history in the region and an old friendship with the Dúnedain, and the Cuan-lûth, Dunlendings fleeing the reach of the White Hand.
Location and NPCs
Barterers are found in Tornhad, Tham Lumren, and Gaerond.
The Defenders of the Angle was introduced with the Rangers and Ruins quest pack, with Update 32.
Access requires the quest pack, or a VIP account.
Gaining Reputation
The faction is unique in that each reputation level requires just 6,250 points to advance.
Quests
Deeds
         Defender of the Angle Deeds Overview          
Deed
Type
Virtue
Title
LP
Rep
Faction
Details
Deeds of the Angle
Meta
+4,000
Steward of the Angle
10
700
Defenders of the Angle
Complete the quest, explorer and slayer deed of the Angle of Mitheithel
Explorer of the Angle
Meta
+2,000
Scout of the Angle
10
700
Defenders of the Angle
Complete both explorer deeds of the Angle of Mitheithel
Slayer of the Angle
Meta
+3,000
Protector of the Angle
10
700
Defenders of the Angle
Complete all slayer deeds of the Angle of Mitheithel
Sites of the Angle
Explorer
+1,000
5
500
Defenders of the Angle
Explore 5 sites of the Angle of Mitheithel
Enemies of the Angle
Explorer
+1,000
5
500
Defenders of the Angle
Explore 4 enemy sites of the Angle of Mitheithel
Quests of the Angle
Quest
+2,000
Hero of the Angle
5
500
Defenders of the Angle
Complete 25 quests in The Angle of Mitheithel
Beast-slayer of the Angle
Slayer
5
500
Defenders of the Angle
Defeat 80 beasts in The Angle of Mitheithel
Beast-slayer of the Angle (Advanced)
Slayer
+2,000
5
700
Defenders of the Angle
Defeat 160 beasts in The Angle of Mitheithel
Dead-slayer of the Angle
Slayer
5
500
Defenders of the Angle
Defeat 40 Dead in The Angle of Mitheithel
Dead-slayer of the Angle (Advanced)
Slayer
+2,000
5
700
Defenders of the Angle
Defeat 80 Dead in The Angle of Mitheithel
Evil Man slayer of the Angle
Slayer
5
500
Defenders of the Angle
Defeat 60 Evil Man in The Angle of Mitheithel
Evil Man slayer of the Angle (Advanced)
Slayer
+2,000
5
700
Defenders of the Angle
Defeat 120 Evil Man in The Angle of Mitheithel
Orc-kind Slayer of the Angle
Slayer
5
500
Defenders of the Angle
Defeat 40 Orcs in The Angle of Mitheithel
Orc-kind Slayer of the Angle (Advanced)
Slayer
+2,000
5
700
Defenders of the Angle
Defeat 80 Orc in The Angle of Mitheithel
Totals:
21,000
85
8,400
Defenders of the Angle
Rewards
Barter Items
Barterer: Quartermaster at Acquaintance standing
Titles
Deeds and titles are not bound to faction standings