Durin's Way
Jump to navigation
Jump to search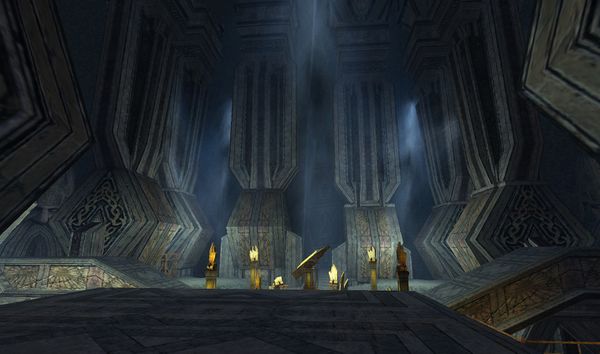 Durin's Way is an area in the north-west of Moria.
This area lies above the Great Delving, Zelem-melek, and the Twenty-first Hall, and west of Nud-melek, and the Bridge of Khazad-dûm.
Two major Dwarf encampments have been established here: the Jazârgund (also known as the Stone Hall) and the Chamber of the Crossroads (also known as Three-Forked Camp). Dwarf contingents here organize strikes against the Uruks and Morroval forces, repair ancient structures, and uncover their ancestors' secrets—all in their quest to reclaim Moria from the servants of the Dark Lord Sauron. [1]
Lore
This proud level of Moria is named for the eldest of the Seven Fathers of the Dwarves — Durin of the Longbeard Clan — and the sixth king to bear his name, the second-last to rule in Khazad-dûm. It is the northernmost territory inside Moria.
Along the southern region of Durin's Way stretches the path the Fellowship of the Ring took from the three-way junction to the Chamber of Mazarbul, and on to the Second Hall. Durin's Way harbors Orcs directed by the brutal White Hand Uruks of Saruman. In addition, there are conscripted Goblins and their vicious warg mounts and the Merrevail, an ancient evil race not seen in many centuries.
Remember Moria is vertical from one area to the next as you go more south on the in-game map, as evidenced by The Endless Stair, which you can see in several zones as you travel deeper into Moria.
Settlements
The following settlements are found within this region:
Deeds
NPCs
See "list of NPCs" within Durin's Way

Quests
See "starting quests" and the landmarks for more quests
Creatures
The following creatures are found within this area:
Named Creatures Flake Collectors List
Each of these creatures is the rare, signature, tougher, named version and all have a high change to drop a rare flake used in crafting.
Durin's Way :
Creature
Location
Type
 

Mithril Flake

Durin's Way
Garn

[2.7S, 99.3W]

or

[2.5S, 102.9W]

Fanged Pit
Morroval
Krumnâkh

[3.1S, 112.1W]

Zirakzigil
Goblin
Riptalon

[4.5S, 102.2W]

Durin's Way
Cave-claw
Sharpmaw

[2.9S, 111.8W]

or

[3.3S, 102.8W]

or

[2.9S, 99.2W]

The Fanged Pit
Cave-claw
Taugan

[3.1S, 112.0W]

or

[2.4S, 99.5W]

or

[3.4S, 99.2W]

Durin's Way
Goblin
Maps
There are also step by step directions for travelling to the Chamber of the Crossroads from the Dolven-View and from the 21st Hall.
Durin's Way