Morgulduin
Jump to navigation
Jump to search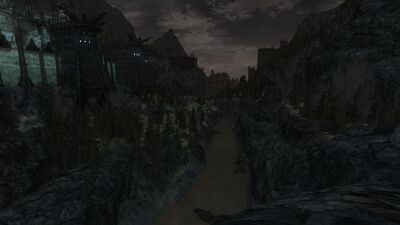 The Morgulduin (sindarin: "River of Dark Sorcery") is a river flowing from the Mountains of Shadow, the border to Mordor through South Ithilien, entering the Anduin south of Osgiliath and west of Minas Tirith. The Morgulduin originates in Eithel Gwaur in the Morgul Vale. The river used to be known as the Ithilduin, before it was corrupted.
While players are in the waters of the Morgulduin, the effect

 Polluted Waters is applied until they leave the stream.
Course of the River
Maps
Gallery
The Morgulduin originates in Eithel Gwaur in the eastern Morgul Vale. It is in the Filth-well the waters are tainted with deadly vapors, which it carries with it through its course.

While cascading down the dark canyons of Rath Dúath, evil darkwater spirits thrive on its surface.

As the river heads west, it approaches the haunted city of Minas Morgul, whose eerie glow can be seen from afar.

Passing out of the Morgul Vale and into South Ithilien, the Morgulduin's riverbed is dotted with corrupted blooms that help spread its poison vapors.

Further west, the river passes beneath Barad Nemorn. Even away from the vale, the river is still toxic to the touch.

The Morgulduin finally pours into the great Anduin, whose mighty currents and massive volume quickly dissipates the corruption, marking the end of both the river and its taint.