Morgul Vale
Jump to navigation
Jump to search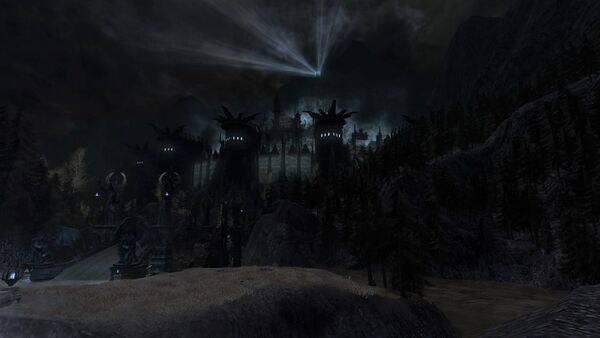 Morgul Vale (Sindarin name: Imlad Morgul) is a region found within the land of Mordor.
The Morgul Vale was the valley of the Morgulduin in the western Mountains of Shadow. At its outflow into Ithilien stood the fortress of Minas Morgul ("Tower of Dark Sorcery"). The name was only used in the later Third Age, after the Nazgûl captured the fortress of Minas Ithil and turned it into the Tower of Dark Sorcery. The only vegetation in the valley was to be found along the river - fields of white flowers believed to give off noxious vapors.
Morgul Vale Locations
Locations found within the region of the Morgul Vale are listed below.
---
Connected Locations
Morgul Vale Creatures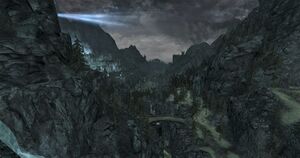 Crafting Tier(s):
Minas Ithil (T13): Ithil Skarn Deposit, Mordor Snag Branches, Minas Ithil Hide, Ithil Artifact Chest
Primarily: Inside the settlement of Estolad Lân
Lore
The Morgul Vale, or Imlad Morgul (Sindarin for 'Vale of Sorcery') was the valley of the Morgulduin in the Ephel Dúath. Morgulduin was the polluted and icy-cold stream flowing through the Morgul Vale. It ran westward past Minas Morgul until it reached The Cross-roads in Ithilien, where its course turned southwest until it entered the Anduin just south of Osgiliath. Just to the north of the stream was the road from Osgiliath up to Minas Morgul. It flowed under the white, ghastly bridge that lead into Minas Morgul. The Bridge was destroyed by Mithrandir in the Quest: Fire Beneath the Shadow as you burned the noxious flowers. Faramir warned Frodo and Sam not to drink from it, as the water was tainted and would harm whoever imbibed it.

Frodo, Sam, and Gollum entered the western end of the valley in order to reach the stairway to Cirith Ungol. As the three passed the white bridge Frodo was dazed by the noxious fumes and began running towards the city, but was stopped by Sam and Gollum. As they climbed the stairs they left the reek behind them on the floor of the valley.[1] After the war was over, Aragorn as King Elessar ordered that Minas Morgul be utterly destroyed.[2]
↑

J.R.R. Tolkien, The Lord of the Rings, The Two Towers, "The Stairs of Cirith Ungol"

↑

J.R.R. Tolkien, The Lord of the Rings, The Return of the King, "The Steward and the King"
Maps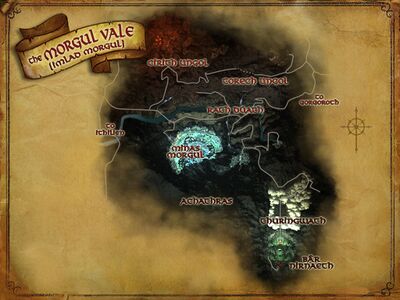 Gallery
Settlements, Areas and Landmarks of the Morgul Vale

Areas:
Cirith Ungol • Minas Morgul • Rath Dúath • Thuringwath • Torech Ungol
Settlements:
Echad Taerdim • Echad Uial • Estolad Lân • Taen Orwath
Landmarks:
Annon Morgul • Aufaltor, the Fane of the Eye • Banám Lugaun • Bâr Nírnaeth, the Houses of Lamentation • Cadar Skûs • Dáru Lagúrz, the Broken Houses • Eithel Gwaur, the Filth-well • Falch Gurth • The Garth of Angáth • Gath Daeroval, the Shadow-roost • Gorthad Nûr, the Deep-barrow • Gúliant • Kaslokroz • Laugdursh, the Dire Span • Râkh Mathán • The Remmorchant • Shakam Moz • Song-house of Lindalírë • The Straight Stair • Taurlingol • Torech Ungol • Torgris, the Hidden Cleft • Ufurok, the Dreadfast • The Winding Stair • Zhar Dushgoi • Zhar Skator
Interiors:
Barad Angarth, the Gate-wardens' Keep • Barad Arthir, the Lofty Watch-fort • Barad Elenath, the Star-gazers' Spire • Barad Orhant, the Tower of the Treegarth • Uialrond, the Dome of Evening
Dungeons:
Bâr Maenath • Búrzangh, the Shrouded Forge • Dâr Grazadh, the Hall of Rot • Ghashan-kútot, the Halls of Black Lore • The Gloomwaters • The Wracking-hall
Instances:
World Instances: Bâr Nírnaeth • Eithel Gwaur • Gath Daeroval • Ghashan-kútot • Gorthad Nûr • The Harrowing of Morgul • Remmorchant / Quest: The Altar of Despair • The Altar of Death • Barad Cúron, the Tower of the Crescent Moon • Roz Dagalur, the Fiend-house