Reflecting Pool
Jump to navigation
Jump to search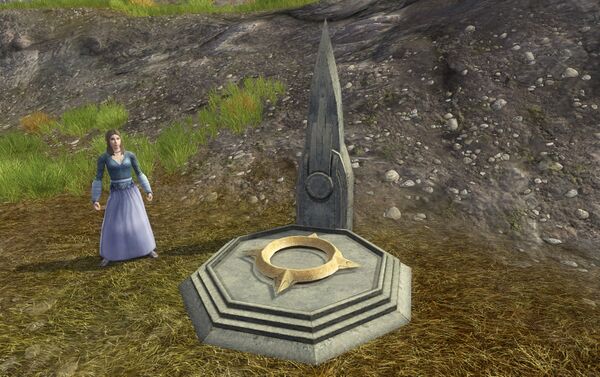 Overview
A reflecting pool is an object that allows player characters to access Quest Instances which they have already completed. This allows them to relive past quest experiences or to assist their fellows in order to help them complete certain quests. In order to use the pool, stand beside it and right-click to activate it. Select the instance encounter that you would like to enter, then select "Travel Now" to be instantly brought inside.
Reflecting pools also work for players wishing to join their fellowship in a quest instance that is on a quest chain they either do not have or have not advanced far enough yet, as long as someone in the fellowship has entered the instance encounter.
The pool does not work for World Instances or Raids; nor does it work if you have not previously completed the quest involved.
Reflecting pools were extremely significant before Volumes I, II and III of the Epic Quest line were all made "soloable" and the Inspired Greatness bonus was introduced. They were the only mechanism available for players to recruit others to assist them in a fellowship where the Instance was too difficult for solo play.
Sages of Eriador
Sages of Eriador stand next to some reflecting pools and will award Marks of Triumph for completing certain instances accessible through reflecting pools. The Sage also barters these Marks for certain rewards which, in turn, can be bartered for Helegrod level 50 Armour from the class traders in The Last Homely House in Rivendell.
Similarly, Rúnar (Sage of Moria) awards Marks of Victory for completing instances at the Moria Reflecting Pool and barters these Marks for rewards.
Locations
Mordor
Gallery
See also