Azanulbizar, T.A. 2799
Jump to navigation
Jump to search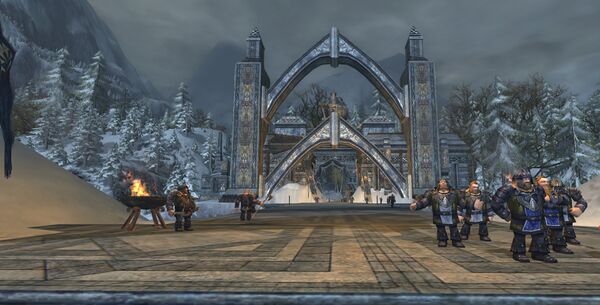 Azanulbizar, T.A. 2799 is a region found within the land of Rhovanion.
The landscape is set in the Dimrill Dale well before the War of the Ring, during the Sixth War of Dwarves and Orcs. The Haban'akkâ of Thráin, a great army of dwarves from all clans, is assembled under King Thráin of the Longbeards in vengeance for his father, Thrór, against Azog and the orcs of Moria.
Azanulbizar Locations
Locations found within the region of Azanulbizar, T.A. 2799 are listed below.
---
Travel
Azanulbizar in 2799 is accessed by interacting with Tales of Yore: Azanulbizar beside Hersegg in Akrâz-zahar. There are also fast-travel skills available for barter at Friend (or Dumul, as the dwarves name it) standing with the Haban'akkâ.
Connected Locations
Azanulbizar Creatures
Crafting
Crafting Tier(s):
Minas Ithil (T13): Khazâd-Silver Deposit, Frost-rimed Ilex Branches, Minas Ithil Hide, Runed Coffer
Maps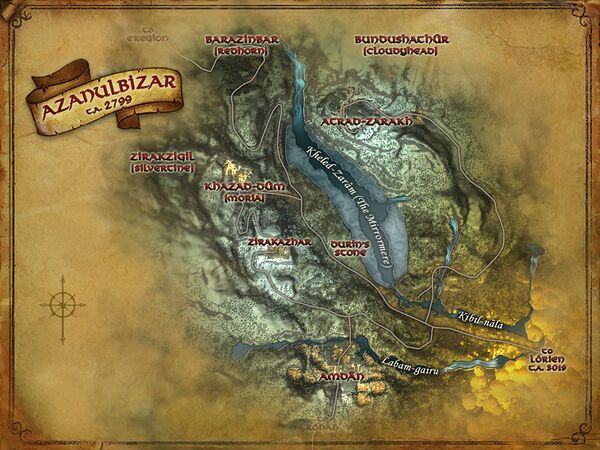 Gallery