Labam-gairu
Jump to navigation
Jump to search
This page is about the Whitcleft as it appears in T.A. 2799 during the Sixth War of Dwarves and Orcs. For the river under its Elvish name as seen in Lothlórien, see Nimrodel.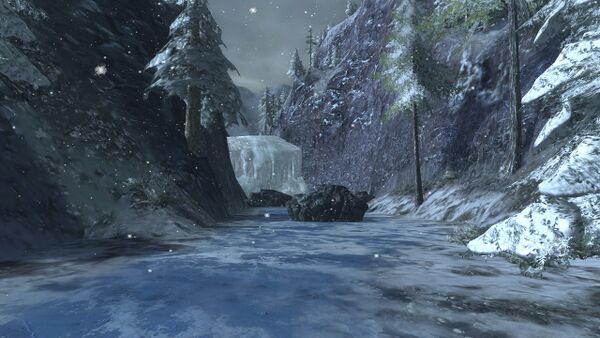 Description
Labam-gairu, the Whitcleft in the Common Tongue, flows along the southern edge of the valley of Azanulbizar. The old trading town of Amdân sits on the river's southern banks as it runs from the Misty Mountains down to join Kibil-nâla near Lothlórien. The Whitcleft is all but frozen over in the depths of winter, though the eastern falls, nearer the Golden Wood, flow even then.
The same river is known is Nimrodel by the Elves, named after an elf-maid who was lost in the mountains.
Deeds
Maps
Gallery
Passing the fortified warpost of Amdân, the river is covered with a layer of snow.

A final fall off a cliff puts Labam-gairu on the border with Lothlórien, where it merges into the Kibil-nâla.