The Mathom Society
Jump to navigation
Jump to search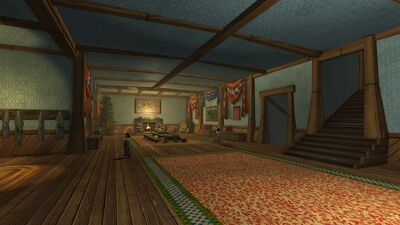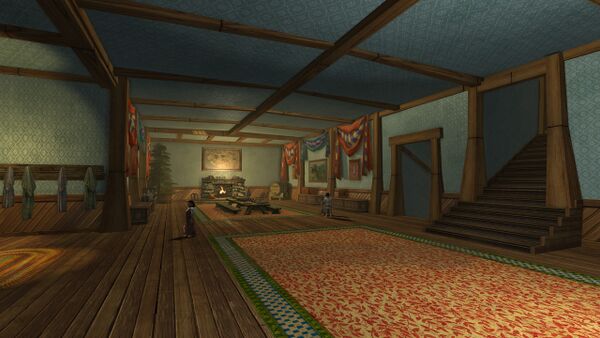 Description
The Mathom Society is a reputation faction located in the Mathom-house in the Shire.
The Hobbits of the Shire enjoy many fine leisure activities when they are not so busy eating or growing food. One such activity is the collection of mathoms, items that hobbits have no particular use for but hold onto anyway. The Mathom Society are a group of hobbits dedicated to the collection of such items, and they scour the countryside in search of new items to add to their collection, when they aren't busy planning a mathom society dinner that is!
Location and NPCs
The Mathom-house in Michel Delving in the Shire. [33.4S, 75.6W]
Outdoors
Indoors
Gaining Reputation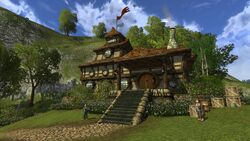 Quests
Reputation Items
Daily Skirmishes
Deeds
Deeds that provide reputation.
Crafting & Barter Items
Barter items
Rewards
Barterer: Maneser Goodbody found in the Mathom-house in Michel Delving in the Shire. [33.4S, 75.6W]
Item
Standing
Level
Cost
 

Prized Mailbag

Acquaintance
2  20  
 

Award of Hobbit Virtue

Friend
35
60  
 

Butter Knife

Friend
1  68  
 Hobbit Keg Decoration Recipe
Friend
16  52  
 Large Feasting Table Decoration Recipe
Friend
16  52  
 

Pitchfork

Friend
1  68  
 

Shovel

Friend
1  68  
 Small Feasting Table Decoration Recipe
Friend
11  
 

Specimen Jar: Fireflies

Friend
2  20  
 

Heavy Cast Iron Frying Pan

Ally
1  68  
 

Mathom Long-sleeved Dress

Ally
8  12  
 

Tome of the Turtle

Ally
112  
 

Mathom Long-sleeved Tunic and Trousers

Kindred
8  12  
 

Prized Mathom Society Steed

Kindred
5  823  60  
Barterer: Bungo Puddifoot found in the Mathom-house in Michel Delving in the Shire. [33.4S, 75.6W]
Item
Standing
Level
Cost
 

'Tom Bombadil' Theme

Ally
56  
 

Large Tent

Ally
60  
 

Mushroom-growing Tent

Ally
48  
Acquaintance
Friend
Ally
Kindred