The Bird and Baby Inn
Jump to navigation
Jump to search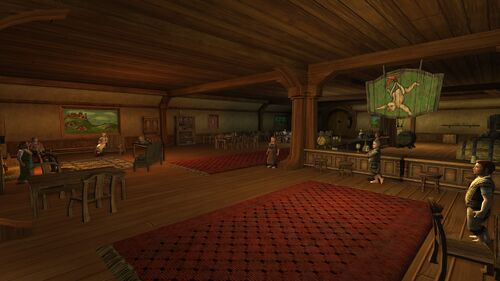 The Bird and Baby Inn is a lively Tavern in Michel Delving in the Shire. [33.4S, 75.3W]
The inn is Michel Delving's major hub of social activity, and the largest tavern in the Shire. Weary travellers can indulge in food and drink, and share stories of adventures by the fire. The Bird and Baby also offers the services of a barber and healer. There is also a room reserved for Inn League members (only accessible to characters who have achieved friend status with the Inn League), where they barter for different faction items.

NPCs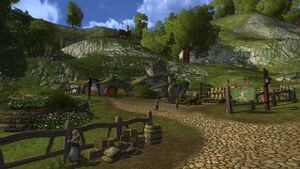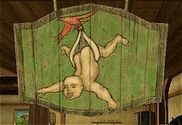 Quests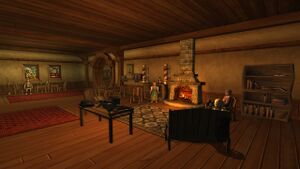 Starting
Involving
Festival quests:
Lore

Real Life Inspiration
The Bird and Baby Inn did not appear in the trilogy of Tolkien. The inclusion of a tavern named "Bird and Baby" is a reference to the real-world tavern "Eagle and Child" in Oxford, England, which was frequented by the members of The Inklings literary discussion group which included J.R.R. Tolkien, Christopher Tolkien, and other well-known professors and authors.
Students of Oxford University who frequent the "Eagle and Child" often refer to the tavern as the "Bird and Baby" (among other colorful names).
From 1939 to 1962, the Inklings members regularly met in a back room of the pub which is now known as the Rabbit Room. Several members of the Inklings are represented in the game: C.S. "Jack" Lewis (NPC Jack Lewisdown), Owen Barfield (NPC Owen Farfield), Charles Williams (NPC Carlo Williams), and a Rabbit. These NPCs refer to a fellow member of the Writing Club named Ronald Dwale, which is a reference to J.R.R. Tolkien.
External References