Nimrodel
Jump to navigation
Jump to search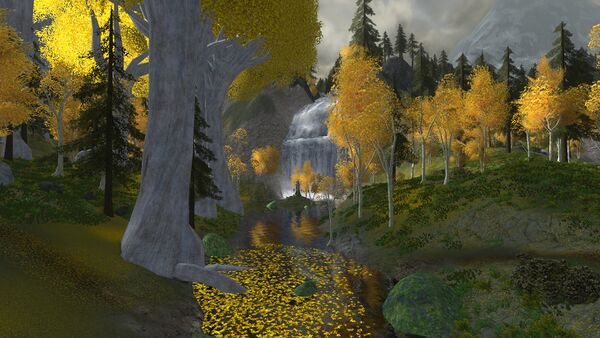 Nimrodel is an area located by Echad Andestel, in the southern region of Lothlórien. Nimrodel is the name of the river that marks the borders of the woods of Lórien. Any who dare to cross without the consent of the Galadhrim will expect to be shot on the edge of the Lórien side. Nimrodel is actually two separate flows of water that both join the larger Celebrant at almost exactly the same point.
Settlements
The following settlements are found within this area:
Landmarks
These landmarks are located within Nimrodel:
Quests
Involving:
Creatures
The following creatures are found within these borders:
Lore
The river Nimrodel was named after an Elf-maiden of old who once dwelt by a waterfall there, and fell in love with Amroth, the Lord of Lórien. Long ago, they left Lothlórien together for the haven of Edhellond, but Nimrodel disappeared in the White Mountains and her fate remains unknown. In later years, the River Nimrodel served as the site of a watchpost of the Galadhrim, kept by the brothers Haldir, Rúmil, and Orophin.
Maps
Gallery