Mitheithel
Jump to navigation
Jump to search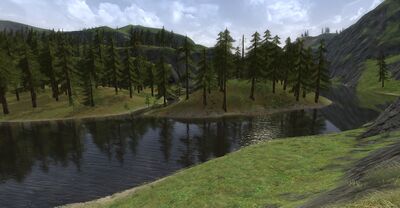 The Mitheithel, known as the Hoarwell in the tongue of Man, is a river that arises in the Misty Mountains, flows through the Ettenmoors, and forms the border between the Lone-lands and the Trollshaws. Here, it is crossed by the Last Bridge. Further south, it joins with the Bruinen (Loudwater) river at the tip of the Angle of Mitheithel. Widening up with the joining of the two rivers, the Mitheithel then forms the border between Cardolan and Swanfleet. At the edge of the Wadewater, the Mitheithel joins with the Glanduin river, forming the Gwathló, or Greyflood river and swelling further into one of the greatest rivers of Eriador.
Maps
Gallery
The Hoarwell's path then continues in a southwesterly direction toward the Isendeep Outpost.

The Isendeep Outpost crosses the Mitheithel near to where the last piece of frost has the water in its grip.

The Hoarwell splits into two flows, each circling the fort of Tol Ascarnen, and meeting up again on the far side.

Again splitting into two flows, the river then circles the hobbit town of Hoarhallow.

The hobbits here see frequent attacks by servants of Sauron, and must be ready to defend themselves at all times.

The Hoarwell continues south of the the Ettenmoors, leaving its constant battles behind.

The river emerges from the Ettenmmors into the Lone-lands and Trollshaws, forming the border between the two regions.

The Last Bridge croasses the Mitheithel, connecting the two regions to each other. Like its name indicates, it is the last bridge to do so. From this point, the river flows free of built structures.

South of the bridge, the river separates the heavily wooded Harloeg from the cliffs of the Angle of Mitheithel, an area taking its name from the river.

The Hoarwell passes Eitheldir on a hill above it, an overgrown ruin long since abandoned.

Another ruin crowns the landscape as the Angle closes in on itself - the crumbled stones of Thelgarth.