Fornost
Jump to navigation
Jump to search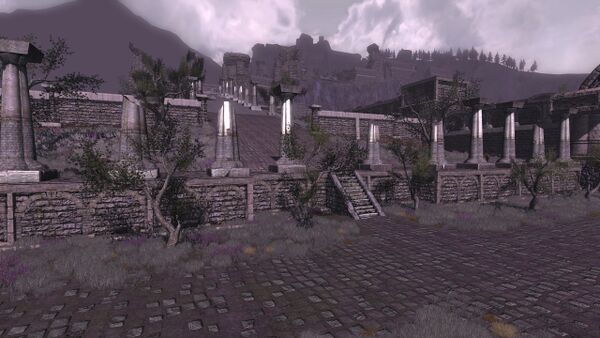 Fornost is an area within North Downs, in the north-western region.
North of the Fields of Fornost lies Fornost (Sindarin for Northern Fortress), also known as "Deadmen's Dike" among Men. Once this was a major Númenórean city. It was the last city of the Northern Kingdom to fall to the Witch-king of Angmar, more than thousand years before current times. (See "Lore" for more historical detail.) For centuries these ruins were peacefully covered with grass, but recently Fornost was overrun by enemies from Angmar. Who knows what they are seeking and what fuels their hatred?
The section outside of the instances, north of the Fields, is unofficially called "Fornost City" and many quests given at the Treasure Hunters' Camp the unfold there, while other quests relate to the Fornost instances. Notice that the four instances must be done in order and within each a certain deed must be completed which unlocks the next instance. They are, in order: Water, Earth, Fire, and Shadow.
Just outside the entrance to the instances is a Camp Site Fire. The nearest stable-master is at Amon Raith, and the nearest services are provided at the Treasure Hunters' Camp.
Services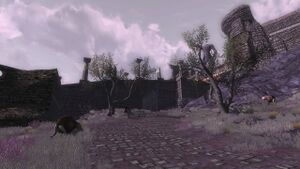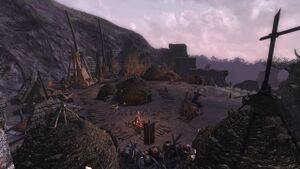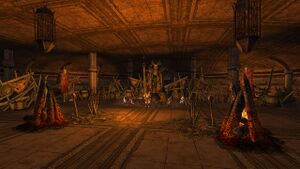 Landmarks — Inside instances
Instances — Must be done in order
Quests
See "starting quests" and the instances for more quests
Starting:
Involving:
Deeds – Instances
Creatures
The following creatures are found within the area (outside instances):
Lore
Maps
Gallery