Esteldín Crafters' Courtyard
Jump to navigation
Jump to search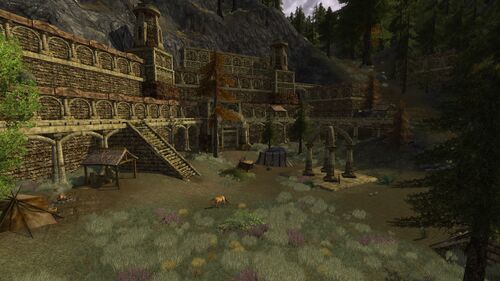 Esteldín Crafters' Courtyard is the east-most courtyard of Esteldín. [9.7S, 41.7W]
In the east of Esteldín, behind the library coming from the main entrance, lies this courtyard with all crafting facilities of the settlement: the Craft-hall of Esteldín with its Superior Workbenches, Vault-keeper, and also the homes for the Jeweller's, Tailor's, and Woodworker's Guild. Here are also found the officials for the reputation faction Rangers of Esteldín; one is inside the craft-hall. West of this courtyard lie Esteldín Central Courtyard and the Forecourt beyond.
From the crafter's courtyard a narrow mountain trail winds itself eastward up the mountain passes leading into Rhunenlad and Nan Amlug East, just south of Rusfold. That is the second of only two passages to and fro Esteldín.
Services
Crafting
Quests
See the crafting facilities for more quests near this location.

Starting
Involving
NPCs
Services
Rangers of Esteldín
Others
Maps