Wyrmsgráf River
Jump to navigation
Jump to search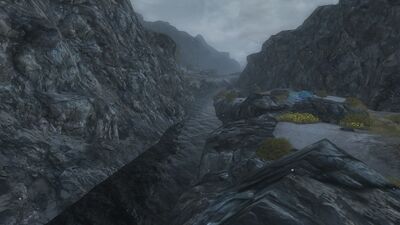 The Wyrmsgráf River is a river in Rhovanion. It flows the western Grey Mountains from near the caves of Wyrmsgráf, heading south towards through eastern Elderslade and down a great fall into the Wells of Langflood where it becomes one of the rivers that form the Anduin after first joining with the Langwell.
Maps
Gallery
The Wyrmsgráf river pours down from the western Grey Mountains next to the caves of Wyrmsgráf which give the river its name. The river's only bridge is located here.

Another waterfall puts the river out of the gorge and into the open lands of Elderslade.

A second ford crosses the river, part of the road leading west to Angmar and east to the Sea of Rhûn.

The Wyrmsgráf then plummets off the cliffs of Elderslade, forming one of the two falls of the Twainmantle.

The Wyrmsgráf is the middle of the Three Sisters of Framsburg, their mist perpetually covering the Misthallow.

The Wyrmsgráf feeds into the longer Langwell river downstream of the Twainmantle.

This dramatic setting is thus the creation of the longest river in Middle-earth, with the Wyrmsgráf as one of its sources.