Michel Delving's Craft-fair
Jump to navigation
Jump to search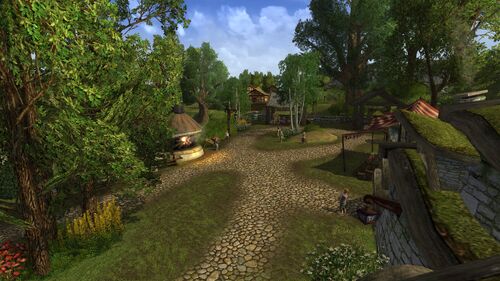 Location
The Michel Delving's Craft-fair is found in Michel Delving in the Shire. [34.6S, 75.5W]
The Craft-fair is located in the south-western part of the town, elevated above the market. Just east of the Craft-fair farmers find the fertile soil of the South Fields. This craft-fair comes second to no none though Cooks will name it superior. Adventurers seeking a crafting vocation are directed to speak to the Mistress of Apprentices, Blossom Proudfoot. Here is also found a Vault-keeper. Craftsmen and craftswomen can learn and advance their crafting skills at the forges, workbenches, and the Superior Oven. The Craft-fair is also the location of the Cook's Guild Hall.
Services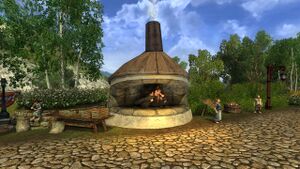 Crafting Facilities
Superior Oven
One of the few Superior Ovens in Eriador is located at the Craft-fair, making it a densely populated by cooks who want to prepare the tastier Artisan, Master, Supreme and Westfold recipes.
Cook's Guild Hall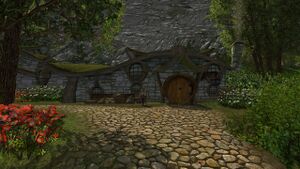 See Cook's Guild Hall for more details.
The original Cook's Guild Hall is found in Michel Delving's Craft-fair. [34.6S, 75.6W]
This is the home for the Cook's Guild where it is possible for Cooks to gain reputation and obtain exclusive recipes and items not possible to obtain by other means.
Reputation vendors and barterers
Quest NPCs
NPCs
Services & Supplies
Crafting
Others
Quests
Starting:
| Introduction Quests | Superior Facility Access |
| --- | --- |
| | |
| Guild Introduction | Master Craftsman Quests |
| | |
Involving:
Gallery