Forest River
Jump to navigation
Jump to search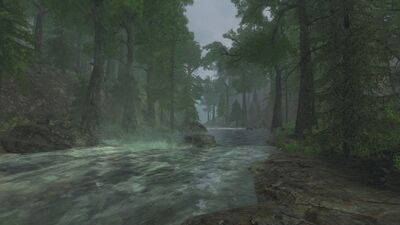 The Forest River or Rhachló in the elven tongue is a great river that flows through northern Mirkwood. It begins in the Grey Mountains far to the north and then flows south-east, joined by the Enchanted River near Thranduil's caverns, until it meets the River Running at Esgaroth.
The river was used by the Raft-elves to carry their goods. This river was used by the Dwarves of the Company to escape through barrels.
Maps
Gallery
The river's first ford is located just north of the lake, leading east to Skarháld.

In the lake stands a statue of a Dwarven king, presumably one of the Durins.

At the south end of the lake, the Forest River reforms as it passes beneath Óinsbridge.

From here, it passes out of view as it enters Eryn Lasgalen, becoming a true forest river.

Further south, the Forest River flows into a small lake northwest of Felegoth.

The river flows past Tholkát, where wood trolls dwell.

Beyond Tholkát, the Forest River heads into a heavily wooded stretch towards Felegoth.

Here, the Forest River continues on towards the elven township of Loeglond.

The Forest River continues its flow past Loeglond, the eaves of Eryn Lasgalen now behind it.