Nud-melek
Jump to navigation
Jump to search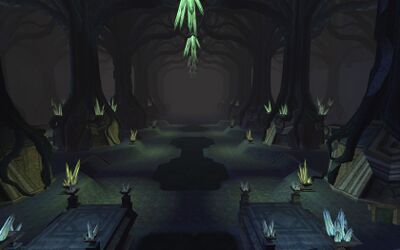 Nud-melek is an area within the region of Moria.
Lore
The easternmost region of Moria is also the most ancient. Called Nud-melek by the Dwarves, this is the Khâzad-dûm of old, the halls first dug out of the mountain by the Dwarves of the First Age. Now it stands cracked and damaged, having weathered fierce battles and fell beasts, including the dreaded Balrog known as Durin's Bane. Yet still it stands proud and glorious, looming high and beautiful inside the mountain, seemingly ready to endure another age's worth of wear and war thanks to the mighty craftsmanship of ancient Dwarf-smiths.
Knowing from the earliest days that the wealth and grandeur of Khâzad-dûm would attract pillagers and enemies of all sorts, Durin's folk built the halls just inside the East-gate for defense. A deep gash in the earth crosses this region, and the ancient Dwarves, treating that chasm as a kind of natural moat, erected a defensible course across that gap: the Bridge of Khazad-dûm.
Locations
NPCs
See "list of NPCs" within Nud-melek

Quests
See "starting quests" and the landmarks for more quests

Creatures
The following creatures are found within this area:
Named Creatures Flake Collectors List
Each of these creatures is the rare, signature, tougher, named version and all have a high change to drop a rare flake used in crafting.
Maps
Nud-melek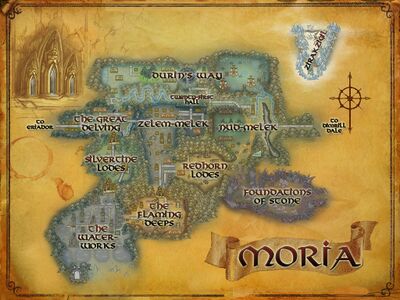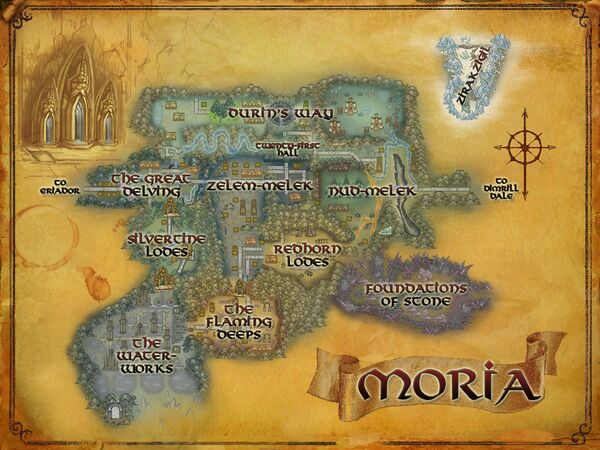 Points of Interest
Deeds