River Snowbourn
Jump to navigation
Jump to search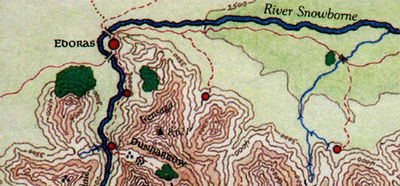 The Snowbourn is a river in Rohan that originates beneath the Starkhorn in the northern White Mountains. Its course flows north through Underharrow, then past the courts of Edoras. Then, as it absorbs the waters of the Woodwell from the west, it takes a sharp bend east to meet the River Entwash among the grassy plains of Eastfold at Snowbourn.
The deep valley above Edoras is called Harrowdale and between its walls the Snowbourn loudly rushes over stones. It is fed by a lesser stream from the west that cascades near a mountain path. After making its right turn just beyond Edoras it flows twelve leagues to its confluence with the Entwash, which is in willow-thickets. [1]
The Snowbourn serves as the border between the Westfold and the Eastfold. It is also, in conjunction with the Entwash north of their confluence, the boundary between the military districts of the West-mark and East-mark. [2]
Maps
Gallery
The Snowbourn drops down from the White Mountains in a series of waterfalls. The snow of these peaks give the river its name.

The first river crossing is the bridge leading past the village of Underharrow west over the mountain pass to Helm's Deep

The Snowbourn passes just south of the homesteads of Kingstead in a rocky section of the land.

In the end, the Snowbourn river feeds into the longer Entwash on its way to join the great Anduin.
References
↑

J.R.R. Tolkien, The Lord of the Rings, The Return of the King, "The Muster of Rohan"

↑

J.R.R. Tolkien, Christopher Tolkien (ed.), Unfinished Tales, "The Battles of the Fords of Isen", Appendix (i)