Greylin
Jump to navigation
Jump to search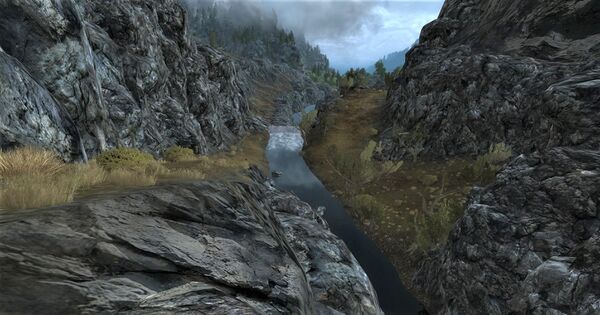 Description
This Greylin river rises in the mountains in the north of Elderslade and runs swiftly over several falls and past the locations of Grálinvarth and Khadâsh-gâra, where it joins other rivers and streams and falls into the upper reaches of the Anduin.
Quests
Maps
Gallery
From there, the river flows in a southerly direction, passing Grálinvarth.

After several drops, the river is crossed by its only ford, just northwest of Khadâsh-gâra.

The Greylin is then fed by its only side river, flowing from near Thikil-gundu to the northeast.

The Greylin continues below Framsburg as the white water contibutes to the mist having over Misthallow.

A second bridge passes from beneath Hlithseld to Framsburg far above the waters of the Greylin.

This dramatic setting is thus the creation of the longest river in Middle-earth, with the Greylin as one of its main sources.