Bywater
Jump to navigation
Jump to search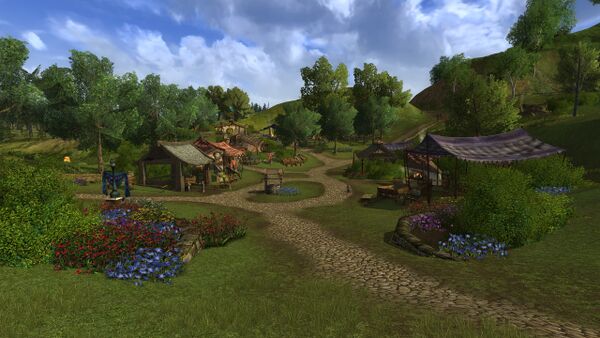 Location
Bywater is a settlement located within the area of Hobbiton-Bywater in The Shire. [31.9S, 69.7W]
It resides on the southern banks of the Bywater Pool, a widening of the river known as The Water. Bywater is known far and wide for its renowned tavern, the Green Dragon. Its owner, Gerd Whitfoot, may be found outside its entrance where she also is the grocer of Bywater.
Bywater offers adventurers the opportunity to advance their crafting skills and create goods at an oven, forge, and workbench. During the Farmers Faire this otherwise sleepy village is suddenly crowded by cheerful visitors from far and near.
Interiors
Services
Mailboxes
Crafting
Quests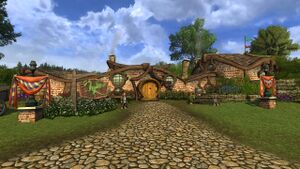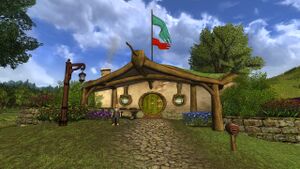 See also The Green Dragon for quests
Starting
Farmers Faire Quests
Involving
NPCs
Supplies
Equipment
Crafting
Others
The Green Dragon
Lore
On SR 1 November 1419 (TA 3019) (which is after the period LOTRO depicts), after returning to the Shire, Frodo Baggins, Samwise Gamgee, Meriadoc "Merry" Brandybuck, and Peregrin "Pippin" Took were arrested by the First Eastfarthing Troop in Frogmorton. Saruman, who had taken control of the Shire and was known as the Chief, ordered that they be taken to Bywater. On the morning of November 2, 3019, Frodo and his companions were escorted toward Bywater by several Shirriffs. At the Green Dragon, Merry, Pippin, and Sam fought off several ruffians who then fled to Hobbiton for reinforcements from the Chief's Men. The Hobbits also rallied reinforcements: Merry rallied Hobbits from around Bywater, Sam went to Tom Cotton's Farm, Pippin rode to Tookland. On the morning of 3 November the Battle of Bywater was fought on the Bywater Road.
Gallery
External References