Umbar Baharbêl
Jump to navigation
Jump to search
"I like this land. It reminds me of the twilit wilds, far away in the North, where my heart remains." —Calenglad
Location Stub
This article or section is marked for missing location information.
Please visit Create new location and help expand knowledge about this wondrous place.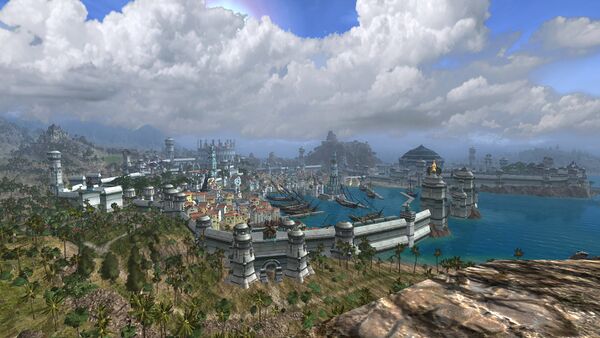 Umbar Baharbêl is the capital city of Umbar.
The heart of the nation of Umbar, Umbar Baharbêl is a port of great historical import and the seat of the Kindred of the Coins.
Umbar Baharbêl provides all possible services, trainers, and vendors.
Stable-masters, Milestone, Mailbox, Reflecting Pool, Skirmish Camp, Tasks Bulletin Board, Auction House, Vault, Barber, Bard, Clerk of Kinships, Class Trainers, Grocer, Healer, Hobby Master, Notary, Outfitter, Provisioner, Taxidermist, armour and weapon vendors
Crafting:
Factions:
POI:
Events:
Quests:
Services
NPCs
See "list of NPCs" within Umbar Baharbêl
NPC
Coords
Class Trainers
Beorning Trainer

[18.3S, 96.0W]

Brawler Trainer

[19.5S, 99.5W]

Burglar Trainer

[18.1S, 96.1W]

Captain Trainer

[23.2S, 100.2W]

Champion Trainer

[23.2S, 100.2W]

Guardian Trainer

[23.2S, 100.2W]

Hunter Trainer

[18.3S, 96.0W]

Lore-master Trainer

[17.3S, 98.3W]

Mariner Trainer

[19.5S, 99.5W]

Minstrel Trainer

[18.2S, 96.2W]

Rune-keeper Trainer

[18.2S, 96.2W]

Warden Trainer

[23.4S, 100.4W]

Services
Auctioneer

[18.0S, 98.3W]

Barber

[19.2S, 96.4W]

Forge-master

[18.6S, 99.2W]

[20.5S, 97.9W]

Mailboxes

[18.6S, 99.2W]

[20.5S, 97.9W]

[20.5S, 95.6W]

Task-boards

[18.4S, 100.5W]

[17.2S, 98.1W]

[20.5S, 96.5W]

Vault-keeper

[17.9S, 98.3W]

[20.4S, 97.8W]

Traders
Housing Furnisher

[20.5S, 97.7W]

Quartermaster (Ledger-keepers)

[17.4S, 98.4W]

Quartermaster (Order of the Eagle)

[20.2S, 96.7W]

Quartermaster (The City of Umbar Rewards)

[17.4S, 98.4W]

[20.2S, 96.7W]

Vendors
Healer

[18.7S, 97.0W]

Provisioner

[18.6S, 99.1W]

[20.4S, 97.7W]

[20.4S, 95.7W]

Supplier

[18.6S, 99.2W]

[20.6S, 97.9W]

[20.4S, 95.6W]
Class Trainers
Quests
See "Category:Umbar Baharbêl Quests" and the locations for more quests

Starting: Involving:
Civic Structures and Facilities
Notice: Each location within this section individually lists quests, NPCs, and more, pertaining to it
Other Interiors
Other Locations
Points of Interest
Lore
Maps
Gallery