Sirannon
Jump to navigation
Jump to search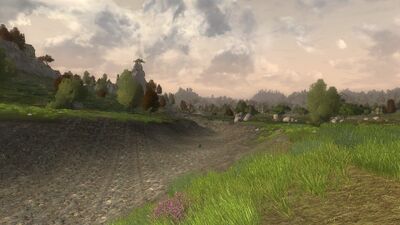 The river Sirannon (Sindarin for Gate-stream), is a river in Eregion.
The Sirannon flows from the Misty Mountains above Moria, cascading down into the Black Pool. Here the water suddenly stagnates, as the river bed heading west is blocked off by debris. Something has broken through the bottom of the pool, and the water now pour from the pool and down into the Water-works of Moria.
The original course of the river heads through the Walls of Moria past Echad Dúnann through the Nan Sirannon, or Vales of the Gatestream, before crossing the plains of Low Hollin. The river would then pass Mirobel and empty into the larger Glanduin river.
Maps
Gallery
The Sirannon flows from the Misty Mountains. Its upper course is not visible, and only a sliver of a flow is seen coming from the north.

The Sirannon forms the Black Pool in front of the entrance to Moria, its too-quiet surface evoking a sense of danger.

The ledge where the river would usually create the Stair Falls is currently just smeared with dried algae.

The Sirannon when full of water would churn at these rock formations, creating a short drop on the far side of Echad Dúnann.

The Nan Sirannon, named after the river, runs parallell with the riverbed for a while.

Further west, the river used to form the border between Low Hollin to the north, and Emyn Naer to the south.

The riverbed then heads toward Mirobel, passing north of it.

As the Sirannon riverbed approaches Tham Mírdain, it veers into the path of the larger Glanduin river.