Three Farthing Stone
Jump to navigation
Jump to search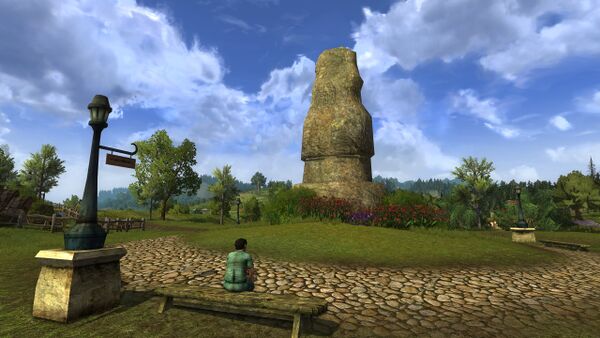 Three Farthing Stone is a landmark within Hobbiton-Bywater, in the Shire. [32.2S, 69.6W]
This prominent road marker is located south of Bywater on the Great East Road, marking the meeting point of three regions of the Shire: the Westfarthing, the Eastfarthing, and the Southfarthing. It is also said that the Three Farthing Stone marks a point near the centre of the Shire. Around the stone are signposts pointing to each of the three Farthings, and benches surrounding it for hobbits and weary travellers to sit.
During the Farmers Faire the locals have erected a large mushroom tent just east of the Three Farthing Stone. During this event this otherwise silent location lives up and many curious visitors travel the nearby crossroad.
Quests
Involving:
NPCs
Lore
After the War of the Ring Samwise Gamgee tossed the remaining soil of Lothlórien, given to him by Galadriel from her garden, into the air at the Three Farthing Stone while replanting the Shire to help repair damage done by "Sharkey" and his Men. And so...
"Altogether 1420 in the Shire was a marvellous year. Not only was there wonderful sunshine and delicious rain, in due times and perfect measure, but there seemed something more: an air of richness and growth (...) The fruit was so plentiful that young hobbits very nearly bathed in strawberries and cream." — The Return of the King
Quotes
Townsperson: "Yes, sir, this rock's been here since I was a boy, and it'll be here when we're all gone."
Townsperson: "That's the Three-Farthing Stone. It marks the boundary where three of the Four Farthings meet."
Townsperson: "You young folk ought to have more respect for historical places like the Three-Farthing Stone."
Townsperson: "If you stand on a bench and squint, you can almost see the Northfarthing from here, too!"
External References
Gallery